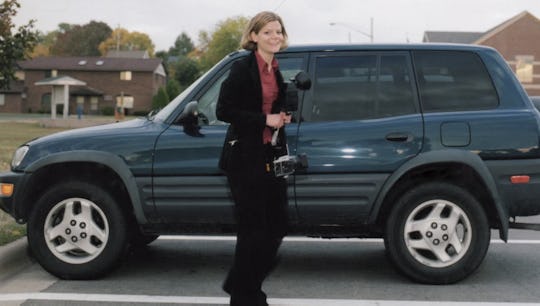 Does Teresa Halbach's Family Think Steven Avery Is Innocent? The Family's Statement Should Give You A Clue
Laura Ricciardi and Moira Demos, the filmmakers who spent 10 years shooting the documentary that's become a viral sensation, Making a Murderer, are not subtle about their theory that Steven Avery was framed for the murder of Teresa Halbach. While the country is riveted by this true-crime documentary, the family of a brutally slain woman has to relive the pain of losing Teresa with every Internet theory and article about her death. But does Teresa Halbach's family think Steven Avery is guilty? Halbach's family won't comment publicly on the case, and has not indicated that they've changed their opinion on Avery's guilt since the court case first took place in 2005.
The filmmakers don't actually present theories of an alternate killer (that's what Reddit is for, people, and everyone in the nation is playing armchair detective on this case), they do cast some unsubstantiated shade on Mike Halbach, Teresa's brother, her ex-boyfriend, and her roommate. In fact, there are tons of theories on Reddit that accuse Mike Halbach of involvement in his sister's death. While this makes for good TV, Halbach, who along with the rest of the Halbach family refused to be interviewed for the series (shooting for the documentary began just after Teresa's murder in 2005) is still a grieving the death of a sister.
The series is focused around Avery, who infamously spent 18 years in prison for a crime he didn't commit and has since been condemned to a life behind bars without parole. But what about the Halbach family? How do they feel? Honestly, we don't know. Just before Netflix released the show, a spokesperson for the family released this statement ABC affiliate news station WQOW. In the statement, the Halbach family said:
Having just passed the 10-year anniversary of the death of our daughter and sister, Teresa, we are saddened to learn that individuals and corporations continue to create entertainment and to seek profit from our loss. We continue to hope that the story of Teresa's life brings goodness to the world.
In a case like this with so many components — the miscarriage of justice, stereotypes about class, the power of the press, the power of the police, the underbelly of rural politics — viewers can too easily forget that Teresa Halbach is more than a character. She was a daughter. A sister. A photographer. A friend. And so much more.
Her family's silence on the sensation of the series is something viewers should take into consideration as well, as they continue to wonder whodunit.
Image: Netflix