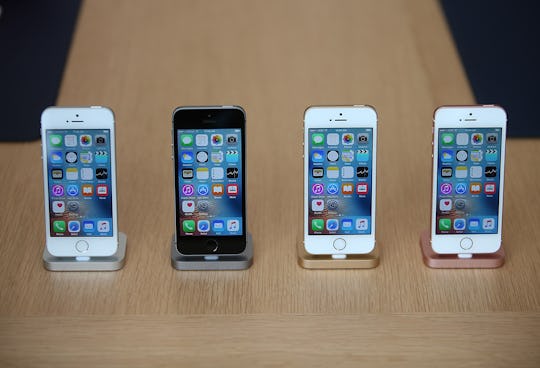 Justin Sullivan/Getty Images News/Getty Images
Does The iPhone SE Need A Different Charger? Because There Are Already Way Too Many
At a media event and iEnthusiast gathering at Apple's headquarters in Cupertino, California, company leaders announced some milestones, new releases, and changes. One of which was the announcement of a new iPhone. The iPhone SE has, in short, the body of an iPhone 5 with the brains of an iPhone 6. But, then, does the iPhone SE need a different charger? It would be a real shame if it did.
After CEO Tim Cook addressed Apple's controversial stand against the FBI and also the company's environmental impact, he moved on to the exciting news: the new iPhone. Many had complained about the size of the iPhone 6, and it appears their complaints were heard, their opinions taken into account, and their prayers were answered with the iPhone SE. Greg Joswiak took to the stage to describe the small, sleek device. At just 4 inches, this phone hearkens back to older models, but keeps (and builds upon) a lot of the newer software and apps available. It's got improved "Siri" support, Apple Pay, faster WiFi, and faster LTE. As for cameras (Apple's pride and joy), it as a 12-megapixel rear camera, True Tone flash (for those dark nights in the club), Time Lapse, and 4K video recording. For grippability (yes, that's a word) and style, it's got matte edges.
But, does it have the memory to store all that stuff? That's where this little phone falls more than a little short. It retails at $399 for 16GB (the same amount of storage iPhones have had since 2010, according to The Guardian), but, after OS, formatting, and standard apps, only about 12 GB of space are left for the user. The only options at that point are to forget about storing pictures or upgrade to the 64GB model for $499, which, it seems, is exactly what Apple wants you to do. For all its talk about improving the environment, Apple's product part of the presentation is a clear reminder that the company is, after all, still trying to make a profit.
But on to the more important question: Does the iPhone SE need a different charger? Rejoice iPhone users; it does not. As it is so similar to the iPhone 5S, it will use the same charger, but hopefully it will hold a charge a bit longer than the 6 and 6S. (That remains to be seen.) Along with this release, Apple also announced a new super-light iPad and new Apple Watch bands. The iPhone SE will go on sale this Thursday and will ship out to users as early as next week.