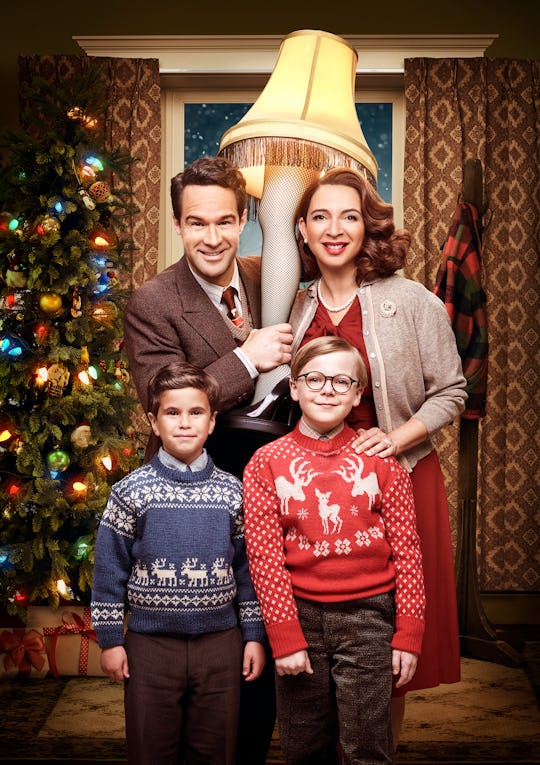 Tommy Garcia/FOX
'A Christmas Story Live!' Is Getting The Broadway Treatment
There are certain Christmas movies that must be rewatched on a yearly basis because otherwise, is it even the holiday season? A classic by far is A Christmas Story, which will be reimagined as a live musical for FOX. But does the movie A Christmas Story have songs? If viewers are not like me and don't have it on your Christmas list roster (for shame), they may wonder if the original 1983 film included musical numbers. I'm here to break it down for you: no, but that's never stopped Hollywood (or Broadway) from adding songs to beloved films. However, A Christmas Story Live! is not the first time this story has been told with a musical twist, either.
A Christmas Story is based on a collection of stories by Jean Shepherd called In God We Trust: All Others Pay Cash. The stories take place in the 1940s and are semi-autobiographical about Shepherd's life; they're told by a fictional character named Ralph (or as he's known as a child, Ralphie). In A Christmas Story, Ralphie wants nothing more for Christmas than a Red Ryder BB Gun. His parents and teacher — and even Santa Claus — tell him it's a bad idea, and that he'll shoot his eye out.
The iconic 1983 film was not the first adaptation of Shepherd's stories. In fact, James Broderick — the father of Matthew Broderick, who is playing the narrator in A Christmas Story Live! — played Old Man Parker (aka Ralphie's dad) in a PBS production years ago. It's safe to say, though, that the film was the most memorable of the adaptations. The songwriting team Benj Pasek and Justin Paul (who later penned songs for Dear Evan Hansen and La La Land) helped turn A Christmas Story into a musical in 2012 for Broadway. The show has since closed, but now Pasek and Paul revisited the story to write a few additional songs for the FOX production.
The Broadway musical has 16 numbers, and the team added on to it for Sunday night's performance. "There's a great saying: 'Musicals are never finished; they're just abandoned,'" Pasek told Playbill. "At a certain point it's just pencils down; you have to open the show." Now, the duo had a chance to fine tune their creation. For A Christmas Story Live!, they gave a song to Mrs. Schwartz. She had a small role in the film, but Pasek and Paul wanted to address that she — like millions of people — doesn't celebrate Christmas. "Let's address it: The Schwartz family doesn't celebrate Christmas," Paul told Playbill. "We found a moment for Ralphie to go to the Schwartzs' house, and he's brought into this world of Hanukkah and their celebration."
Besides Mrs. Schwartz's song, another addition to the mix is a song by Bebe Rexha. Bebe Rexha will open A Christmas Story Live! with an original number by Pasek and Paul called "Count on Christmas." Given how much work Pasek and Paul (not to mention everyone else involved) put into A Christmas Story Live!, I can't wait to see how it will play out.
I think when it comes to reboots and reimaginings, there's always an initial weariness to whether it will measure up to the original. While I don't think anything can compare to the 1983 version, Ralphie's story was surely in good hands with Pasek and Paul. With five more years of experience since their Broadway debut (including Tony and Oscar nominations), I'm sure the new songs are a great addition to their musical. Paul told Playbill, "This is now the definitive version of the show." If nothing else, the promise of these fun new songs is incentive enough to watch.
Check out Romper's new video series, Romper's Doula Diaries:
Watch full episodes of Romper's Doula Diaries on Facebook Watch.