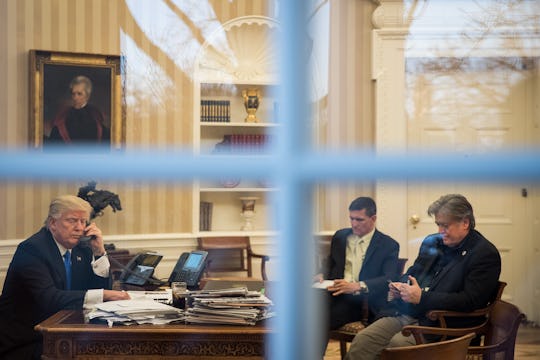 Drew Angerer/Getty Images News/Getty Images
National Security Adviser Needs No Senate Approval
As President Donald Trump's National Security Council (NSC) takes on new forms, adding strategist Stephen Bannon into the mix while downgrading others, the actual influence of each respective member is yet to be seen. As the NSC grows, many wonder what influence, if any, the Senate might have on such changes. For instance: Do any new positions require approval by the Senate? And does General Michael Flynn, Trump's pick for national security adviser, require Senate confirmation?
Flynn is already knee-deep in work for the NSC. Requiring no Senate confirmation, Flynn was sworn in on Jan. 20 — the day Trump took over the presidency. Also sworn in at that time were nearly 30 other members of Trump's staff, including Bannon, Reince Priebus, Kellyanne Conway, Jared Kushner, Omarosa Manigault, Sean Spicer, Hope Hicks, Stephen Miller, and Katie Walsh.
Given Bannon's recent upgrade — his seat on the NSC's "principals committee" — many have noted that, theoretically speaking, Bannon and Flynn are now NSC equals. It also appears that Bannon requires no Senate confirmation either, thanks to the specific wording of Trump's executive memorandum that appointed Bannon. Laurence Tribe, a professor of constitutional law at Harvard University, found that serving on the "principals committee" doesn't require Senate confirmation because it isn't an explicit part of the NSC.
Bannon's elevation occurred amidst the demotions of the director of national intelligence and the chairman of the Joint Chiefs of Staff. As Trump shrinks the NSC, the key players involved will enjoy increasing clout. Still, there are a lot of factors at play in assessing an NSC, as former senior director for strategic planning at the NSC Kelly Magsamen shared in a piece for The Atlantic:
The success or failure of every National Security Council depends heavily on the command culture set by the president, the discipline and transparency of the NSC process itself, and the personalities and relationships of those sitting around the table in the White House Situation Room.
Regardless, many are looking for ways to block Trump's appointment of Bannon, saying that Bannon's political role runs counter to the NSC's aims. On CBS This Morning, former acting CIA chief Michael Morell explained: "Having somebody like Bannon in the room brings politics into a room where there should be no politics." Sen. Bernie Sanders also voiced his opposition to Bannon, tweeting: "We need experienced people who will protect our country on the National Security Council, not an extreme right-wing political operative."
On both sides of the aisle, officials and citizens are concerned about the direction that the NSC is headed. Trump's eager penning of copious executive orders diminishes the possibility of outside influence and impact, emboldening his presidential power, despite the wishes of the people.