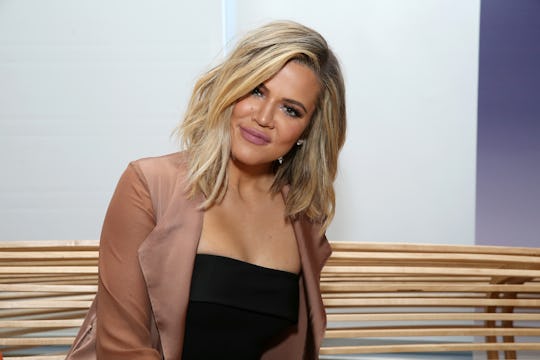 Cindy Ord/Getty Images Entertainment/Getty Images
People Are Convinced This 'KUWTK' Clip Is Khloe Kardashian's Pregnancy Reveal
If you're at your wits' end trying to solve the greatest mystery of our time, Khloé Kardashian's alleged pregnancy, good news (potentially). It looks like the truth might be revealed next month on Keeping Up With the Kardashians, because some fans are pretty convinced that the new KUWTK trailer confirms Khloé's pregnancy. At the very end, watch for some very excited reactions to shocking news, followed by Khloé getting surrounded by well-wishers. I mean, what else could that be? Sure, it's possible that the network employed some creative edits to make it seem that way when it's actually about something else entirely, but if that's the case, they are damn good at their jobs.
The prevailing theory as to why Khloé and her younger sister, Kylie Jenner, haven't confirmed or denied their rumored pregnancies is that they were saving the bombshells for their show. As BuzzFeed has pointed out, the family has a long history of refusing to address rumors about big news such as pregnancies, divorces, and lip surgeries, often for months, opting instead to utilize their big life events as ratings boosters. Many fans expected the season premiere to finally set the record straight, but so far, both fetuses are still purely speculative.
The trailer in question highlights clips from the Jan. 7, 2018 episode, which is curious, given that three more new episodes are set to air in the coming weeks. It could be that the network had concerns about flagging interest in the sisters' rumored pregnancies, and teased the episode well in advance in order to keep fans on the hook. While it's doubtful that anything will be revealed before January, fans might want to pay closer attention to the remaining December episodes to see if there are any subtle clues hidden in there.
For now, let's break down the little taste that E! tweeted out on Wednesday afternoon. In the final moments, the Kardashian-Jenner family and various friends are gathered on a patio for what appears to be a fancy luncheon. Gasps and exclamations of joy suggest that someone standing just off-camera just delivered some very surprising but happy news. Kourtney, Kris, and sisters Malika and Khadijah Haqq (close friends of Khloé) seem particularly overjoyed by the news. As everyone is standing around agape, and Kris wipes tears from her eyes, we see Khloé, who was notably not seated at the table, embracing her friends. She's the only person in the scene who doesn't appear shocked or tearful.
But there's a little more to the clip; a nearly identical preview was posted on the E! YouTube channel around the same time as the tweet, but this one is a few seconds longer, showing another scene from the same luncheon. Kim, is shown asking her mother incredulously, "Did you not know?" This would makes sense if the news is what we think it is; it's a little surprising that Khloé would announce her pregnancy to a large group, on camera without first alerting her mother/executive producer.
The extra scene might even provide another clue; when speaking to Kim, Kris is shown holding a baby whose face has been blurred out. From the little we can see, she sure looks a lot like Dream Kardashian, and comparing her size to photos on mom Blac Chyna's Instagram, fans can estimate when the filming occurred. Khloé supposedly got pregnant in late May, so it stands to reason that she'd start sharing the news around August. The size of the mystery baby does appear to line up with that timeline. At any rate, if Khloé is pregnant, she can't keep it a secret forever. Now when will we get a teaser promo about Kylie?
Check out Romper's new video series, Romper's Doula Diaries:
Watch full episodes of Romper's Doula Diaries on Facebook Watch.