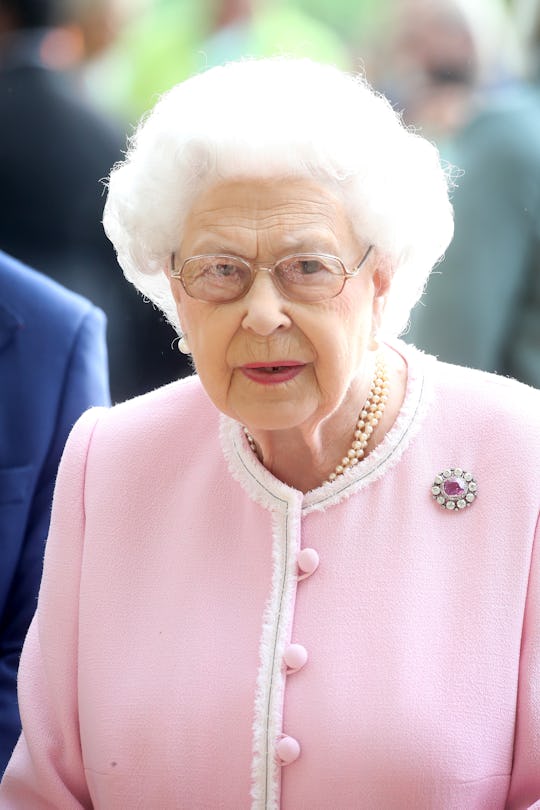 Chris Jackson/Getty Images Entertainment/Getty Images
Here's How The Queen Probably Feels About Meghan Markle
Navigating new family dynamics after you get married is always an interesting and exciting time, and it seems like Meghan Markle has it down to a science. In the two weeks since she's made her HRH title official, the world has likely been wondering how she's getting along with her new family members. Does the queen like Meghan Markle? Though the head of the monarchy is predictably diplomatic when it comes to her grandson's partners, it seems as though the two are forging their own bond.
Vanity Fair reported that Meghan has "won over" Queen Elizabeth, as biographer Katie Nicholl told the magazine that she was "genuinely delighted" by her and Harry's courtship, and that she approved of the marriage "without hesitation." In fact, the Queen reportedly likes Meghan so much that she's had her over for tea, was invited to visit over Christmas (which is normally reserved for spouses), and, as Town and Country reported, the Queen even keeps a "never before seen photo" of the couple in Buckingham Palace. Only weeks into the marriage, and already a photo on the royal mantle? Seems pretty impressive so far.
However, more was revealed about their budding relationship leading up to the wedding day. Harper's Bazaar reported that in Harry and Meghan's standard post-engagement interview, the future Duchess talked about the Queen, and how Harry prepared her for their meeting.
Meghan shared in the interview:
It's incredible. I think to be able to meet her through his lens, not just with his honor and respect for her as the monarch but the love that he has for her as his grandmother, all of those layers have been so important for me. When I met her I had such a deep understanding and, of course, incredible respect for being able to have that time with her, and she's an incredible woman.
Meghan also noted that the family has helped her feel comfortable with the adjustment to royal life.
His family has been so welcoming. We've had a really nice time getting to know them and progressively helping me feel a part of not just the institution, but also part of the family, which has been really special.
So far, it seems as though that sentiment is mutual. Back in March, the Queen offered her formal consent for Harry and Meghan to marry, which, BBC reported, is necessary prior to the nuptials, otherwise the marriage is technically invalid. "Now know ye that we have consented and do by these presents signify our consent to the contracting of matrimony between our most dearly beloved grandson Prince Henry Charles Albert David of Wales KCVO and Rachel Meghan Markle," the announcement reads.
The Queen also helped Meghan with some details of the wedding, as Vanity Fair reported that she not only got to see Meghan's dress first, but that she also helped with flower arrangements. "She met with the Queen who wanted to talk through some ideas for flowers and introduced her to some of her events staff. Meghan is taking everything on board, but she has her own ideas when it comes to flowers," a source shared.
Though it's typical for royals to remain tight-lipped about their opinions of others (especially when those opinions involve new family members) other little moments between Meghan and the Queen indicate that they're pretty fond of one another as it is. In their post-engagement interview, Harry also noted that the Queen's corgis loved Meghan, though they never quite took to him. He explained: "The corgis took to you straight away. For the last 33 years, I've been barked at, and this one walks in, absolutely nothing, just wagging tails." Meghan agreed, saying: "Just laying on my feet during tea, it was very sweet."
Very sweet indeed, as it seems Meghan is ready to take her place in the family and start making her mark on the world. Though the approval of a literal queen may not be that easy to come by, it's no surprise that the newest Duchess is already in her good graces.