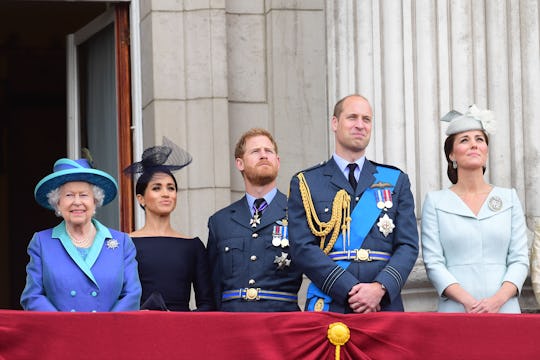 WPA Pool/Getty Images News/Getty Images
All The Reasons Why The Royal Family Might Celebrate Thanksgiving This Year
The traditions of the royal family can differ greatly from the general public, and that's especially true when you compare England to the United States. As Thanksgiving approaches, many fans across the pond may be wondering: Does the royal family celebrate Thanksgiving? With Meghan Markle now a member of the family, it's reasonable to think that she may bring some American traditions around.
Most people in the United Kingdom don't celebrate Thanksgiving, simply because of the holiday's origins. As Thanksgiving is an American holiday, the royal family doesn't typically celebrate it. However, you can find Thanksgiving celebrations across London, where people "celebrate the U.S. holiday of Thanksgiving in London with traditional American food and special events," according to Visit London.
The royal family now has an American member, though, so the family may switch things up. After all, Markle is a big fan of Thanksgiving and once had a photo of her celebrating the holiday on her Instagram in 2016, according to E! News, where she wrote that the holiday allowed her to give thanks to "so many things."
Last year, Markle celebrated the holiday in Los Angeles with her mom, as reported by E! News. But with a new baby on the way, it's unlikely that Markle will make such a long trip this year. That and a few other factor point towards the royals possibly celebrating Thanksgiving this year.
The royals are typically busy with different outings and public events. But, according to the official royal site, neither Prince Harry, Prince William, Kate Middleton, Markle, or the Queen herself have any set engagements between Nov. 20 to 24.
In addition, Prince Charles doesn't have anything lined up. The Duchess of Cornwall, Camila, however, is supposed to hold a "reception for winners of The Queen's Commonwealth Essay Competition [at] Buckingham Palace" on behalf of the Queen on Thanksgiving Day, according to the royal's official website.
It's not typical for all these members of the royal family to be free around Thanksgiving. Last year, Prince William and Middleton were preparing for the annual Royal Variety Performance.
Markle has been pretty insistent on bringing some of her old American life into her new role. For example, during her royal wedding, Markle combined American nods and traditions with those from the United Kingdom. Knowing this, and seeing the royals' pretty open calendar, it's very possible that the family could do something for Thanksgiving.
If they do celebrate, it's possible that Markle will help stock the table with some Thanksgiving classics. As you may be aware, Markle has some pretty impressive culinary abilities under her belt, according to Hello! Magazine. In fact, in 2016, Markle shared a photo of herself along a delicious looking turkey, captioned, "Oh, that time I roasted a pretty perfect Thanksgiving turkey!"
One holiday that the royal family is sure to celebrate, though, will be Christmas. The family joins Queen Elizabeth every year at Sandringham Estate, according to People, and shares a massive dinner together.
Prince William and Kate Middleton are also known for taking new Christmas portraits and cards of their family each year. Now that Prince Harry and Markle are married, it's definitely possible that the couple will decide to put out a Christmas card of their own.
Right now, it seems likely that, if the royal family celebrates Thanksgiving, they wouldn't hold a highly publicized event. But, even if the royal family decides to skip on Thanksgiving celebrations, fans can definitely expect to see them together on Christmas.