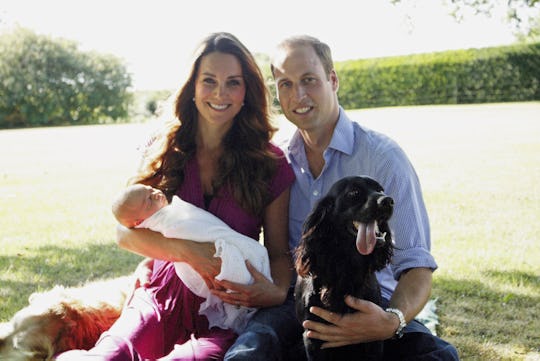 Handout/Getty Images Entertainment/Getty Images
Prince William & Kate Middleton Are Proud Pet Owners
To some, the royal family might not seem like your average family. This is because they're not — especially since Prince William is is set to inherit the royal throne and become King of England one day. But aside from the fact that Prince William is set to inherit palaces and a huge title, he and wife Kate Middleton and their children, Prince George, Princess Charlotte, and (their newest addition) Prince Louis live a relatively normal life. And if you wondering — does the royal family has pets — like any other family might, you might be surprised to find out the answer.
Even though Prince William and Middleton are quite busy traveling and participating in royal engagements, they do have the time to go home and live like any other family. Some would assume that this would include the royal family having pets and they're absolutely right. Prince William and Middleton have quite a few pets, according to People, a dog named Lupo and a hamster named Marvin, according to Vanity Fair. The royal family has a history of loving dogs, according to Tatler, and Prince William and Kate Middleton are no exception to this rule.
Based on what Prince William and Middleton have said, their pets mean the world to their family, especially their kids.
In January 2012, according to People, a little less than one year after Middleton and Prince William got married, they were photographed with their black cocker spaniel puppy, for the first time. One month later, Middleton revealed during a charity appearance that the dog's name was Lupo, according to People, which is reportedly a play on the latin word for wolf, Lupus. Lupo reportedly gave the couple some practice in taking care of a little one and having a new addition in the house, according to Mirror, because in December 2012, Middleton and Prince William announced that they were expecting their first child, according to E! News.
Once the couple welcomed their first child, the focus of course, switched from the royal puppy to the new royal baby, but according to People, Lupo and Prince George got along famously. But that isn't to say that Prince George's relationship with Lupo didn't drum up some controversy. In 2016, the royal family was criticized after Prince George was pictured feeding Lupo some ice cream, according to People.
As previously stated, Middleton and Prince William also have a hamster named Marvin — but the details about the hamster are a little fuzzy (no pun intended). Due to the fact that Marvin is a hamster, he hasn't exactly appeared in any royal photo, but Middleton has spoke highly of him, according to Hello!. During a royal appearance in 2016, Middleton reportedly told one young girl that Princess Charlotte loved her hamster "because the whiskers tickle her face."
But because hamsters don't make the most exciting pets, people were worried that Marvin no longer existed, according to People, but that isn't the case. In 2017, Middleton reportedly revealed to a group of school children that both Lupo and Marvin were doing well.
While a hamster and a dog are super normal animals to have, according to People, Middleton and Prince William also own some unconventional pets. During a visit to a farm last May, according to People, Middleton said that the royal family also has "five chickens and an incubator full of eggs" which have certainly hatched into chicks by now. Of course, other members of the royal family have pets, according to Hello!, including Queen Elizabeth who was famous for having a gaggle of corgis.
Although photos of the royal baby might be more exciting to see than the royal pets, it is rest assured that Prince William, Middleton, and their children are very happy with their animals.