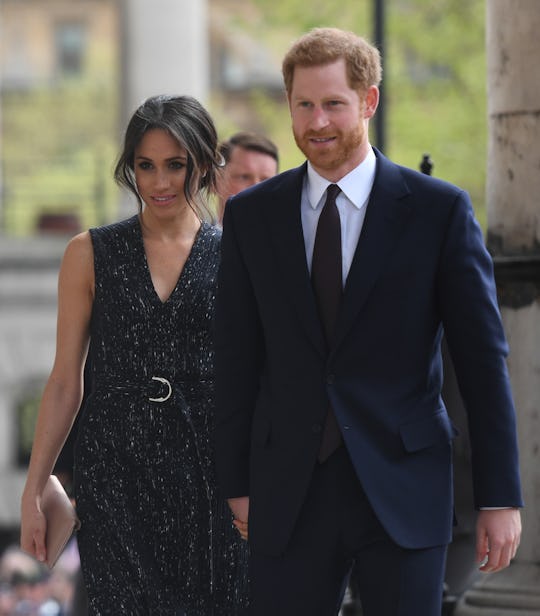 WPA Pool/Getty Images Entertainment/Getty Images
Who Is Paying For The Royal Wedding? Here's A Cost Breakdown
With the first day of May upon us and just weeks to go before Prince Harry and Meghan Markle's royal nuptials, the excitement is almost palpable. Though many questions about the big day still linger, one of the most significant events of the decade isn't going to come cheaply, which is what's prompted people to wonder: Does the royal wedding cost British taxpayers? The Daily Beast reported that the number $42 million has been thrown around a lot, but it's not as cut-and-dry as one might think.
Right after the royal engagement, Verdict reported that the royal family will be footing most of the bill, though that raises questions about where their money comes from in the first place. Of course, those familiar will already know that a lot of the wedding will be funded by the Sovereign Grant and the Crown Estate (which is basically the Queen's percentage of earnings from the vast amount of land and property owned privately by the monarchy).
Basically, the royal family will cover most of the costs, but taxpayer money will cover costs of security and transportation, Brides reported. As for the rest of the expenses, they will probably be split up. Given that Meghan Markle is an established individual, Insider reported on April 18 that experts believe she will most likely be paying for her own wedding dress, given that she wants to choose what it is and contribute to the wedding herself.
Verdict reported that Prince William and Kate Middleton's 2011 wedding was said to have cost £20 million, or £22.3 million in 2017. That number reportedly covered everything from the clothing to the jewelry to the catering and even the honeymoon. The report stated that the bill was footed mostly by Prince Charles, but that U.K. taxpayers did cover costs for security and transport, as per usual with royal affairs. That was estimated to be a total of £7 million out of taxpayers' wallets.
Despite how much that may seem, Reuters reported that the royal wedding will boost the U.K. economy by as much as £500 million. The report noted that there were an extra 350,000 visitors in 2011 for William and Kate's wedding, and the extra revenue was generated through tourism, travel, hotels and so on. Andrew Lee, manager of the Harte and Garter hotel opposite Windsor Castle, told the publication:
It's going to be a massive boost for the economy, it's going to be great to see so many people here for the wedding and actually to host the wedding itself. We are looking forward to it and we hope it will help to improve our tourist trades.
Be that as it is, it's pretty much guaranteed that no expense will be spared and every detail will be attended to. Express estimated some of the other royal wedding costs will be as follows:
Lemon elderflower cake – £50,000
Sausage rolls and hot tea – £26,000
Flowers – £110,000
Meghan's dress –  £300,000 - £400,000
Though those numbers have not yet been confirmed, they are based on trends from other royal weddings, and considering everything else that goes into the affair, it can be easy to see how it could come out to be a few million dollars altogether.
Regardless of how lavish it will be, Brits can rest easily knowing that their money is really only going toward the security of the royal family and guests (which is no different than the norm) and that despite how many millions may potentially be spent on safety measures and protocol, an event of this magnitude is clearly going to generate more excitement and revenue for the U.K. than anything they put out.