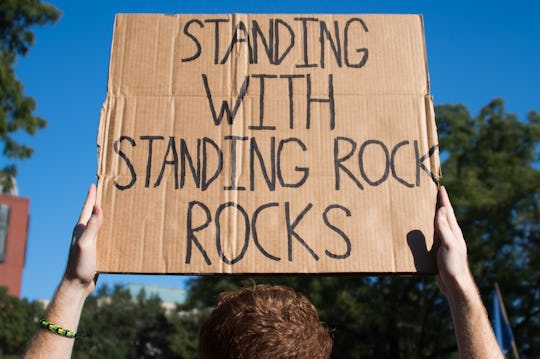 JIM WATSON/AFP/Getty Images
Does The Standing Rock Facebook Check In Help? The Show Of Support Is Raising Awareness
Supporters of the Standing Rock Sioux Tribe aren't just camping out, they're checking in. Though not every activist can make it to a Dakota Access Pipeline protest in North Dakota, anyone can show their commitment to the cause by checking in to the Standing Rock Indian Reservation on Facebook. Posts circulating on social media suggest that the one simple expression of digital solidarity can actually help on-site protestors evade the tracking efforts of law enforcement, but does the Standing Rock Facebook check in help? The action is having an impact, but perhaps not in the intended way.
According to viral Facebook posts, the Morton County Sheriff's Department allegedly used Facebook check-ins to track individuals camping out in the Standing Rock area to protest the Dakota Access Pipeline, The Washington Post reported. Posts suggest that Water Protectors are asking supporters around the world to check in at Standing Rock in order to make it more difficult for law enforcement to determine who is physically involved in the protests. Though the simple request gained massive momentum online, the Morton County Sheriff's Department's statement published on Facebook Monday denied any reports that they use data collected from Facebook check-ins:
In response to the latest rumor / false claim circulating on social media we have the following response: The Morton County Sheriff's Department is not and does not follow Facebook check-ins for the protest camp or any location. This claim / rumor is absolutely false.
Many allies of North Dakota's Water Protectors are particularly mindful of police activity: according to The New York Times, 142 people alleged protest participants were arrested on Friday alone. But in this case, it appears as though checking in on Facebook may not actually offer a safeguard for activists on the ground. The viral Facebook posts aren't tied to a reliable source. It appears that law enforcement officials are not relying on Facebook check-ins for information.
It may not have disrupted police activity, but the Facebook activism did have a significant impact: NPR reported that the number of people who checked in to Standing Rock exceeded one million. To Water Protectors, that number alone is a victory. A representative of the Sacred Stone Camp told The Washington Post that circulating information about their cause of social media helps them to raise awareness of the pipeline on an unprecedented scale:
This check-in has created a huge influx of media attention that we appreciate. There is a massive social media following, which plays a key role in this struggle.
Anyone who can't camp out at Standing Rock can still protest the Dakota Access Pipeline from wherever they live. Standing Rock Sioux Tribe spokeswoman Sue Evans told the San Francisco Chronicle that social media activism is a good place to start, but there's more good to be done:
It starts a conversation with your friends about what this is about and why you posted it, which is good, but we need people to take further action — whether that's asking (an elected official) to prevent the pipeline, or calling on your state to refuse to send militarized law enforcement to Standing Rock.
It can be frustrating to live far away from the action in North Dakota, but aspiring activists have every reason to feel empowered. By harnessing the full suite of digital tools at their fingertips, they can connect with politicians, offer support to Water Protectors, and sustain a global conversation about the Dakota Access Pipeline.