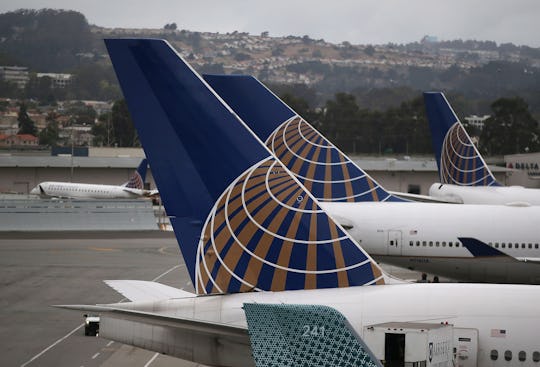 Justin Sullivan/Getty Images News/Getty Images
Yes, United Airlines Has A Dress Code For Some Riders
Pretty much everyone has an opinion when it comes to leggings, but who knew airlines did, too? The internet exploded on Sunday when news emerged of three young girls reportedly being denied boarding for wearing leggings. It started when Moms Demand Action founder Shannon Watts tweeted that a United Airlines gate agent wasn't allowing girls on the flight because they were wearing leggings. United Airlines quickly responded that the passengers were "pass riders" and subject to certain dress codes. But does the United Airlines dress code rule apply to kids, too?
A United spokesperson confirmed to Romper that the dress code applies to all company pass riders, regardless of age. The spokesperson said the dress code couldn't be shared with the media, since it was an internal document.
According to Watts' account of the incident on social media, one girl was reportedly allowed onto the flight when she added a dress over top of her leggings, while the other two were not allowed to board the flight. United Airlines spokesman Jonathan Guerin confirmed to The Washington Post that the two girls had not been allowed on since they didn't comply with employee benefit travel dress code. He said:
Our regular passengers are not going to be denied boarding because they are wearing leggings or yoga pants. But when flying as a pass traveler, we require this pass travelers to follow rules, and that is one of those rules.
Guerin clarified that leggings were specifically mentioned in the dress code.
"The policy applies to all pass riders," a United spokesperson told Romper on Sunday. "I think it's important that we stress that this is an internal thing, this has nothing to do with our customers. This is an internal issue that we communicate to our employees who are putting people on their pass travel privilege."
Watts told MSNBC that the youngest girl looked to be around 10 to 11 years old, while the two others seemed like they were in their "young teens." In a tweet from their official account, United Airlines also confirmed that the travelers were teenagers. After Watt tweeted about the incident, it quickly went viral, with a few frequent fliers defending their policies and others vowing to take their business elsewhere.
In defense of the airline, one user tweeted, "What a waste of time raging over #United leggings ban which applies only to employees+companions flying on pass. It's an internal matter."
Whether fliers decide to boycott the company or not, it's good to see that the whole world still has strong feelings about leggings — from Twitter users to airline dress code deciders — on both sides of the fence.