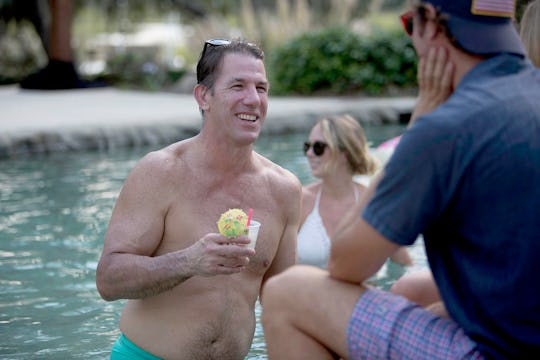 Brianna Stello/Bravo)
Thomas Ravenel Is In The Middle Of A Custody Battle
After all of the drama last year, Season 4 of Southern Charm opened with the news that Thomas Ravenel has custody of his kids, since their mom, Kathryn Dennis, went away to rehab in California. As of Episode 2, she seemed to be doing well, but she hasn't been able to spend that much time with her kids, since the custody battle is ongoing. Since they're still in the midst of figuring out custody, neither Kathryn or Thomas can give away too much information about their current arrangement, but one dramatic teaser shows Thomas taking the kids away from Kathryn as she breaks down.
Because being away from them on a full-time basis is not easy, as any mom (or sympathetic human being) can attest to. She told People that it's "the most difficult challenge I can imagine anyone could ever go through in life. Those are my two angels. There are so many days when I just see a toy or something randomly misplaced and break down in tears."
Kathryn said on the show that she's passed a recent drug test and is working towards figuring out a joint custody agreement, so there might be a good news ahead for her as the season continues to unfold.
In the meantime, Thomas has full custody of 3-year-old Kensie and 18-month old Saint. And while they must miss their mom, they're not doing so badly at T-Rav's place. They have their own spot in the guesthouse, at the advice of his nanny. It's not like he's banished them — it's just that his plantation house is so old. He said:
I caught all this grief for [keeping them in the guest house], but I was taking the advice of my nanny, who said that would be the most appropriate place to raise the children because the front house is like a museum that's four stories — it's very dangerous. There are no open areas to play, you have all this antique-y furniture, you know, it's just not conducive to raising children, it's not kid-friendly.
Thomas has help for sure, but he also does bath time duty and spends time with his two little ones. Everyone's just trying their best at the moment and it can't be easy for Thomas, either, who was charged for drug possession and distribution of cocaine in 2007, ending his stint as the state's treasurer.
While her kids spend all of their time with Thomas, Kathryn is making moves to prove that she can provide for them. "I'm saving my money. I'm living back at home, which is great for me," she said. "I have privacy and time to really think about these things."
Hopefully things work out for everyone involved. Especially Saint and Kensie.