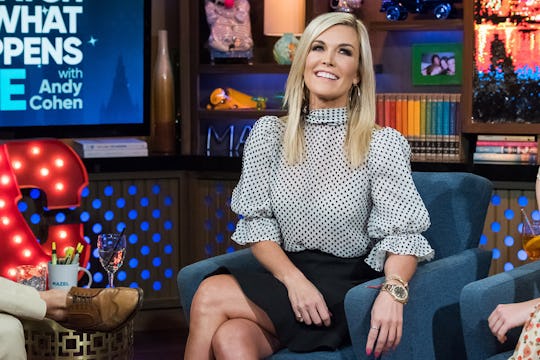 Charles Sykes/Bravo
Is Tinsley Mortimer Finally Ready To Move Out Of Her Hotel?
If you are a fan of the Real Housewives of New York, you'll know that Tinsley Mortimer has quickly become a huge fan favorite. She's been living the high life in style and luxury in various fancy hotels in New York City. In fact, she hasn't had a real apartment since living with co-star Sonja Morgan on the show. So fans want to know: does Tinsley Mortimer have an apartment now? She was seen home shopping with Scott back in April.
As of now, it seems that Tinsley is still living in a hotel in Manhattan, because in a Bravo TV blog last month, she chronicled how she enjoyed hosting Sonja Morgan at the hotel she's living in. "I loved surprising Sonja with the penthouse suite and Louis Vuitton Neverfull when she came to stay with me at the hotel," wrote Tinsley. "I sincerely and genuinely appreciate her generosity in allowing me to stay with her — she's always welcome with me."
If you remember, last year, when Tinsley broke up with her long-time boyfriend Alexander "Nico" Fanjul, she went to stay with Sonja in her Upper East Side townhouse. And while Sonja allowed her to stay there, she and Tinsley had more than their fair share of arguments about the arrangement. So it was pretty interesting to see the tables turned, as Sonja came to stay with Tinsley in her hotel apartment due to renovations on her townhouse. Tinsley even welcomed Sonja with a Louis Vuitton bag full of goodies.
But while she is living in a hotel at the moment, according to New York Post, Tinsley and her on-again, off-again paramour Scott Kluth had been looking for an apartment in New York City's trendy SoHo neighborhood. The outlet noted that just this past April, the couple checked out a $17,500 per month apartment in SoHo, which boasts a 2,630 square-foot floor plan with three bedrooms, 13-foot wood-beamed ceilings, huge windows, oak floors, and cast-iron columns, all part of a beautiful 19-century cast iron building on 20 Greene St. But the report also mentioned that while Tinsley and Scott fell in love with the apartment, the residents of the building were not keen on the idea of a camera crew filming throughout the property, so the unit was rented out to someone else.
On "Watch What Happens Live With Andy Cohen" last month, Tinsley admitted that she had ended her relationship with Scott once again due to the long distance between them, with him working in Chicago for his business CouponCabin, and her filming RHONY in New York City. But more recently, she posted a picture of the two embracing in front of the Eiffel Tower in Paris, and one of a dinner at the Four Seasons Paris where she tagged Scott and captioned the photo "opposites attract." So, for now, it looks like the two love birds are back together again, but I think her future living situation might depend on the status of her relationship with Scott, and whether the two plan on moving in together in their own apartment.
There must be something powerful between the two, because they just seem to come back to each other despite their differences. I know fans are rooting for Tinsley to have a happily ever after with Scott, but it's hard to tell what the future holds for them as a couple. For now, you can keep getting the inside scoop on Tinsley through her Bravo TV blog, or continue to tune into the Real Housewives of New York on Wednesdays at 9 p.m. ET on Bravo.