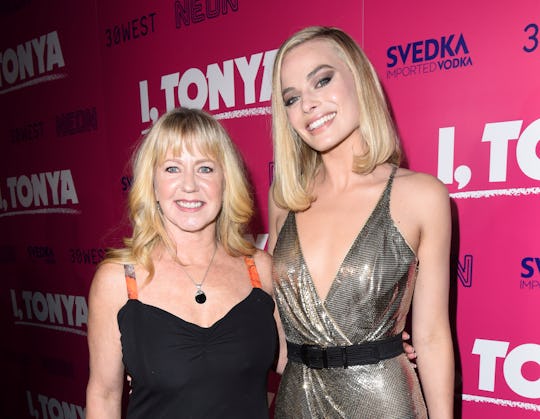 Vivien Killilea/Getty Images Entertainment/Getty Images
Win Or Lose: Tonya Harding Can't Wait To Compete On 'DWTS'
When the Margot Robbie-starring film I, Tonya came out, it gave its subject Tonya Harding an unexpected boost back into the public eye. After accompanying the film's cast to some key press events and award shows, it seems like she'll be making the most of her renewed celebrity by joining Dancing with the Stars: Athletes on April 30. Her time on the ice might be helpful in the competition, but did Tonya Harding have dance experience before DWTS?
It doesn't seem as though Harding has any kind of professional dance experience. Even though she was dedicated to skating from a very young age, those skills don't necessarily translate to the ballroom. Harding has also spent quite some time out of the spotlight, which means she hasn't pursued an athletic career in any field in years, either on the ice or off. She was banned from skating competitions in 1994 by the U.S. Figure Skating Association following her speculated involvement in Nancy Kerrigan's attack. Harding insisted she had not known about the plan to assault Kerrigan, which was put in motion by her ex-husband Jeff Gillooly, but she did plead guilty to hindering the investigation. Following the ban, she briefly attempted boxing, but there's been no known ventures into dance.
Harding appears to be relishing the opportunity, though she admitted to Entertainment Tonight that it was also a big challenge. Her skating past proved to be a hindrance instead of a help at times, too. "Trust me, it is nothing like I have ever done before," she said. "The toes, the head, the hands. I mean, I finally got the hands right when I'm skating and now I can't use those. I have to change everything to the dance hands, the dance face."
Harding also discussed how much it meant to her to be able to perform again. Though her life with her husband and son was fulfilling, she told ET that she still had the sense something was missing in other areas of her life. It led her to return to skating, but she found she also wanted to do more. Then she got the call for DWTS and was so excited that she didn't even worry about the reaction from the public. When asked if America might embrace her because of her involvement with the show, she said, "Does it matter? It doesn't really matter. I'm just honored to be part of this and very humbled as well."
Harding also spoke to USA Today about how emotional the process has made her, claiming she might just burst into tears if the crowd does have a positive reaction to her. "It's been a very, very long time since I had people respect me in any way, so that's where the emotion comes in," she said. "If I get a standing ovation or have a huge crowd that does like me, I'll cry. Since I've become a mommy, I have more emotions."
She also commented on past perceptions of her skating style and how that inspired her to work harder when learning dance moves with the help of her partner Sasha Farber. "Everyone knows I wasn't very dainty (when I skated), but I want to do the beautiful dances," Harding told USA Today. "Sasha has his work cut out for him."
Harding might not have had any dance training to help her, but she seems to be going all in on the process of figuring it out for Season 26 of DWTS. Fans will have to tune in to find out for themselves if she was effective in making the adjustment from figure skating infamy to ballroom success.
Check out Romper's new video series, Romper's Doula Diaries:
Watch full episodes of Romper's Doula Diaries on Facebook Watch.