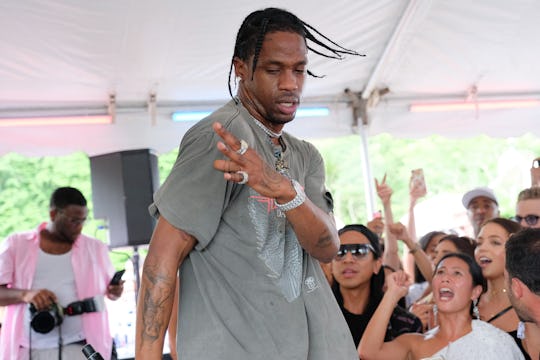 Matthew Eisman/Getty Images Entertainment/Getty Images
Travis Scott Is Reportedly Thrilled About His First Child
If you don't know by now, Kylie Jenner is pregnant. Let that initial shock sink in. OK, now that it is over, lets begin. On Friday, TMZ and People both reported (and confirmed with sources) that Jenner is pregnant with boyfriend, rapper Travis Scott's child. There is a lot that everyone knows about Jenner, but if you're not into rap, then you probably don't know much about Scott. Assuming that he is about to be in the spotlight a lot more, there so much that people will want to know about him, but mainly does Travis Scott have kids?
Several sources confirmed to TMZ Friday afternoon that Jenner and Scott were expecting, after telling friends during a music festival earlier this month. According to People, Jenner is pregnant with a baby girl due in February. "They started telling family and friends a few weeks ago," the source said, according to People. "The family has known for quite some time. She is really excited and so is Travis!"
Scott will definitely need a lesson or two in changing diapers because this will be the first kid for Scott and the first kid for Jenner. But this doesn't seem like it will phase either of them, especially if they're as happy as the reports claim.
There is a lot that people will want to know — and will definitely learn about Jenner's boyfriend of a few months. Travis Scott is only 26 years old, but is already a successful rapper. Scott started out as a producer, according to Complex, and began rapping over his tracks to "tell his life story" of growing up in Houston, Texas. Scott then enrolled in the University of Texas before dropping out to focus on his music. That proved to be a successful move — his second album debuted at number one on Billboard's album chart, according to Pop Sugar, and received a platinum certification in album sales.
But Scott's personal life doesn't seem to be as big of a deal as his career. According to Pop Sugar, Scott was linked to Rihanna in 2015 — and thats about it. In April, Jenner and Scott were seen hanging out at Coachella together and by June they had gotten matching tattoos. Needless to say, things have gotten pretty serious pretty quickly in the past five months.
Scott hasn't really said anything about wanting kids or a family, but he has spoken about his legacy — which kind of the same thing (when you think about it). During an interview with Show Studio's In Camera series, according to Complex, Scott spoke about how he wants to see his future:
Before I leave I just want to leave the whole world inspired. I just want to leave a trail of inspiration, a timeline for where I shifted culture.
In an interview with XXL this January, Scott refused to talk about the subject of dating, stating that he "hates" the topic. According to XXL, Scott assuresd people that they wouldn't have something to talk about in the gossip magazines by broaching the subject. Fair enough. Scott has also expressed his distaste for being followed around by paparazzi in a 2015 interview with Billboard.
So maybe the Life of Kylie — with cameras in your face and reporters knowing everything — will take some time for Scott to get used to. But I'm going to believe the reports that Scott is thrilled to be expecting his first child with Jenner. This should be one of the most exciting times in Scott's life and just because he is a more private person doesn't mean he isn't happy.
A congratulations is in order for the first time parents to be.