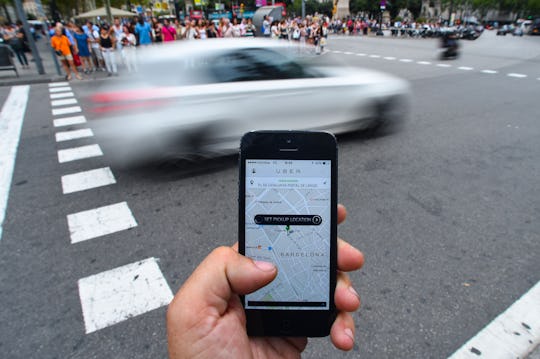 David Ramos/Getty Images News/Getty Images
Does Uber Conduct Background Checks? The Kalamazoo Shooter Didn't Raise Any Red Flags
Just one day after being taken into custody by Michigan police, Uber driver Jason Brian Dalton appeared in court on Monday after allegedly killing six people and injuring two more during a five-hour shooting spree on Saturday. The 45-year-old Dalton has not yet given a motive for the seemingly random shootings that occurred at three different locations throughout Kalamazoo. With news that Dalton allegedly committed the shootings in between fare stops while driving for the mobile ride hailing service Uber, some have been wondering: does Uber conduct background checks? Yes, Uber does conduct background checks for all of its drivers in the United States — called "driver partners" — but if a driver partner doesn't appear to have any kind of criminal record, he or she could pass that background check.
This appears to be the case with Dalton, who passed his Uber background check according to an Uber spokesperson. According to Uber's "Safety" page at the company's website:
All drivers in the US must provide their license and vehicle documentation before being able to drive with Uber. They're also required to go through a pre-screening process that includes a review of their motor vehicle records and a search through criminal records at the county, state, and federal levels.
On Sunday, Uber released a statement on the Kalamazoo shootings from its Chief Security Officer, Joe Sullivan. The statement condemned the attacks and offered condolences to those affected in addition to announcing that Uber is cooperating with police to "help with their investigation in any way that we can."
In a July 2015 blog post entitled "Details on Safety," Sullivan shared more about the numerous safety checks put in place across the entire Uber rider experience. Uber conducts their driver background checks with the help of Checkr, a nationally accredited screening agency. Earlier this month, Business Insider called Checkr one of the 25 hottest startups in San Francisco to watch in 2016. Prospective Uber drivers must submit the following detailed information and documentation, according to the Uber safety blog post:
Drivers full name, date of birth, and social security number
Driver's license number and copy of driver's license
Copy of vehicle registration, insurance, and proof of completed vehicle inspection
There are a number of violations that would disqualify someone from becoming an Uber driver, including DUI convictions, sexual offenses; reckless driving, hit and runs, acts of terror, felony convictions, or violent crimes such as assault, battery, or homicide. Checkr pulls its data from a number of databases and resources, including Dru Sjodin National Sex Offender Public Website (NSOPW), and the National Criminal Search, as well as "several different databases used to flag suspected terrorists."
Drivers' records are also checked against their Motor Vehicle Registration (MVR) file. If a potential violation is found in the search, Checkr will send an actual person to review the record at the courthouse and verify the information; alternatively, the company can cross-check court records if they are available digitally.
According to Kalamazoo Public Safety Chief Jeff Hadley, Dalton "was not on anybody's radar for any reason." Hadley told CNN that Dalton "didn't have a lengthy criminal history. He wasn't a known troublemaker." Kalamazoo County Prosecutor Jeff Getting told CNN on Monday that he expects Dalton will be arraigned on several charges, including "six counts of murder, two counts of assault with intent to commit murder, and eight charges of what we call felony firearm, using a firearm during the commission of a felony."