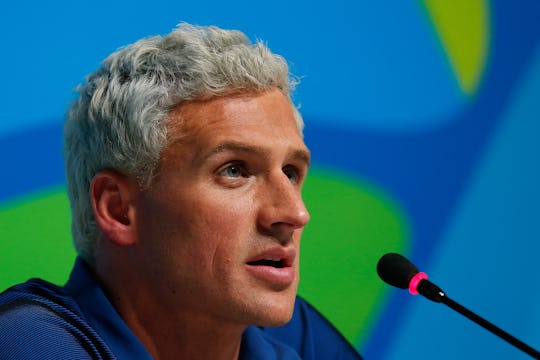 Matt Hazlett/Getty Images Sport/Getty Images
Does US Swimming's Statement Suggest Repercussions For Ryan Lochte? He Released An Apology
Ryan Lochte, 12-time Olympic medal winning United States swimmer, has helped bring controversy to the Rio 2016 Summer Olympic Games. In an incident that can perfectly be described as a prime case of white male privilege, Lochte said he was robbed at gunpoint in Brazil, which Rio police later alleged was fabricated. It has been an embarrassing incident for Americans, especially considering Brazil is hosting athletes and officials from around the world. But also, it calls attention to the actions by Lochte, and his teammates involved (all white) in the incident – and the racial privilege in the widespread response to their behaviors. On Thursday, The U.S. Olympic Committee issued an apology for the swimmers' actions. But does U.S. swimming's statement suggest repercussions for Lochte? It seems only time will tell.
The U.S. Olympic Committee referred to the debacle as a "distracting ordeal":
The behavior of these athletes is not acceptable, nor does it represent the values of Team USA or the conduct of the vast majority of its members. We will further review the matter, and any potential consequences for the athletes, when we return to the United States.
As of now, it's unclear what the potential consequences will be, but what is clear is that the Rio Olympics Committee, and all Brazilians, do not deserve to have fabricated Olympic-related robbery stories blasted around the internet.
Romper received the following statement from USA Swimming Executive Director Chuck Wielgus via email:
The last five days have been difficult for our USA Swimming and United States Olympic families. While we are thankful our athletes are safe, we do not condone the lapse in judgement and conduct that led us to this point. It is not representative of what is expected as Olympians, as Americans, as swimmers and as individuals.
That this is drawing attention away from Team USA's incredible accomplishments in the water and by other athletes across the Olympic Games is upsetting. The athletes and their remarkable stories should be the focus.
We're extremely thankful of the support and efforts from the USOC, Department of State and U.S. Consulate General throughout this process. USA Swimming will undergo a thorough review of the incident and determine any further actions, per our Code of Conduct.
In an interview with NBC's Matt Lauer, Lochte, 32, referred to himself and his teammates, Gunnar Bentz, Jack Conger, and Jimmy Feigen as "victims" in a robbery incident.
"We're victims in this and we're happy that we're safe," Lochte said.
Lochte alleged that he and his teammates were pulled over, in a taxi, and held at gunpoint and robbed.
But Brazilian police claimed the story was fabricated, with information about the athletes vandalizing a gas station, left out. According to the station's owner, the athletes were allegedly visibly drunk, damaged a soap dispenser, a sign, a door, and urinated around the premises, the New York Times reported. (Security footage from the gas station, captures the American swimmers.)
Lochte has since apologized on Instagram, labeling the incident "traumatic." He claimed he should have been "more careful and candid," in his description of events.
"I want to apologize for my behavior last weekend -- for not being more careful and candid in how I described the events of that early morning and for my role in taking the focus away from the many athletes fulfilling their dreams of participating in the Olympics..."
Lochte did not mention vandalism, of any kind, at the gas station in his supposed apology. And so again, this incident continues to be an example of privilege.