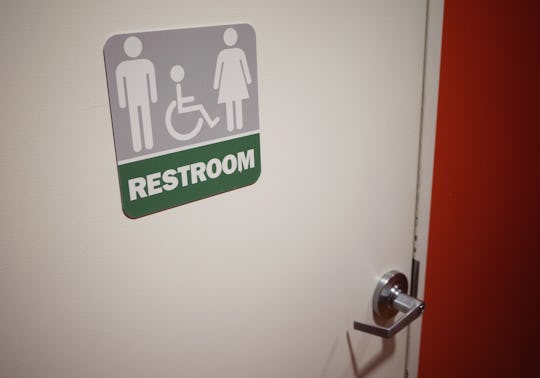 MANDEL NGAN/AFP/Getty Images
DOJ Sues North Carolina Over Anti-LGBT Bathroom Bill, Citing A Federal Civil Rights Law
In response to a controversial new bathroom law, the Department of Justice sued North Carolina for discrimination. The DOJ argues that forcing individuals to choose a bathroom based on biological sex instead of gender identity runs counter to the Civil Rights Act of 1964. The DOJ found that North Carolina's Public Facilities Privacy and Security Act is in violation of the Civil Rights Act, the Education Acts Amendment of 1972, and the Violence Against Women Reauthorization Act, CNN reported.
North Carolina Gov. Pat McCrory signed House Bill 2 into law in March, according to ABC News. It requires individuals to use bathrooms and changing facilities that correspond to their biological sex; transgender individuals are required to get their sex changed on their birth certificate if they want to use a bathroom or changing facility that aligns with their gender identity.
The DOJ wrote a letter to McCrory last week, according to CNN; in it, the DOJ asked North Carolina to fix the Public Facilities Privacy and Security Act:
Access to sex-segregated restrooms and other workplace facilities consistent with gender identity is a term, condition or privilege of employment. Denying such access to transgender individuals, whose gender identity is different from their gender assigned at birth, while affording it to similarly situated non-transgender employees, violates Title VII.
McCrory needed to respond to the DOJ's letter by 5 p.m. on Monday to avoid legal action, The Wall Street Journal reported. Instead of pursuing a change to the law, he sued the Department of Justice. The text of McCrory's lawsuit argued that Title VII does not recognize "transgender status" as a "protected class." The complaint accuses the Department of Justice of incorrectly interpreting federal law, according to a passage quoted in The Wall Street Journal:
The [Justice] Department's position is a baseless and blatant overreach. This is an attempt to unilaterally rewrite long-established federal civil-rights laws in a manner that is wholly inconsistent with the intent of Congress and disregards decades of statutory interpretation by the Courts.
In addition to North Carolina, the complaint filed today by the Department of Justice names the North Carolina Department of Public Safety (DPS) and the University of North Carolina (UNC) as defendants. The complaint argues that, by enforcing HB 2, these places are forced to discriminate "against transgender public employees." In a statement, Attorney General Loretta Lynch condemned the law:
This action is about a great deal more than just bathrooms. This is about the dignity and respect we accord our fellow citizens, and the laws that we, as a people and as a country, have enacted to protect them – indeed, to protect all of us. It's about the founding ideals that have led this country – haltingly but inexorably – in the direction of fairness, inclusion, and equality for all Americans. This is not a time to act out of fear. This is a time to summon our national virtues of inclusivity, diversity, compassion, and open-mindedness. What we must not do – what we must never do – is turn on our neighbors, our family members, our fellow Americans, for something they cannot control, and deny what makes them human.
The outcome of this lawsuit may have major repercussions. For North Carolina, the biggest risk is the potential loss of state aid, according to ABC News; billions of dollars hang in the balance. For the country, a legal decision may set a precedent for future civil rights cases by determining the extent of influence of the federal law. McCrory maintained that the Obama administration is manipulating civil rights law for the sake of the transgender community (because, you know, wanting to protect those people is apparently a bad thing). Lynch argued that North Carolina's law is harmful, targeting individuals who have endured decades of discrimination. Now, it's up to the courts to determine whether North Carolina has the right to base bathroom access on biological sex.