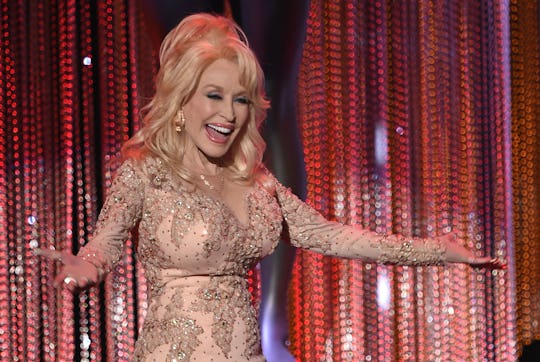 ROBYN BECK/AFP/Getty Images
Dolly Parton Is Unveiling A Children's Album & Yes, You Can Freak Out
There are some musicians that totally transcend generations and everyone can agree on, which is why it's absolutely perfect that Dolly Parton is releasing a children's album. Yes, Dolly-lovers, the singer-songwriter announced that she would be releasing her 44th album, called I Believe In You, just for the kiddos.
According to Rolling Stone, the iconic country star told reporters at a Nashville press event that she's been thinking about a kid's album for ages and has written children's songs in the past — she just never recorded them. "It just seemed like it was the time ... Since I'm getting so old, I'm going back into my second childhood," she said, according to Rolling Stone.
The 71-year-old singer also performed three of the songs from the record to a group of kids at the event. As Rolling Stone reported, one song had a confidence building message and another was about anti-bullying. There was also just a fun, goofy song to have a dance party to.
Ugh, to be that lucky group of kids on Wednesday. Parton also read to the kids from her book Coat of Many Colors, based on the song from 1971. In addition to the new kids' songs on the upcoming album, there's also a new version of the famous tune.
According to Rolling Stone, Parton said of the her would-be fans:
These kids, I hope they'll be fans, because a lot of them, their parents liked me, and they became their grandparents and introduced me to them. I think kids can kind of relate to me, like a Mother Goose character.
For sure, most kids will be drawn to her — Parton is sort of like a cheerful storybook character. What's more, she wrote all of the songs, which will be released digitally on Sept. 29, and in CD and vinyl on Oct. 13.
If you're reluctant to drop money on music (for shame!), know that all of the proceeds go to Parton's Imagination Library program, which distributes books to children in need. So far, the organization has donated over 100 million books. So it's a good way to give back and get some new tunes for the rides to and from soccer practice. (You know you're sick of Kidz Bop.)
In addition to the new kids' album, Parton is also doing a collaboration with Kesha this year, so you're going to be hearing quite a lot of her. The remade Parton's 1980 hit "Old Flames (Can't Hold a Candle to You)" for Kesha's upcoming Rainbow album. Believe it or not, Parton and Kesha's mom are reportedly friends, so the two were able to make a quick connection.
Between the new children's album and a featured track on Kesha's new album, there's no doubt that your kids will be Parton fans like the rest of us.