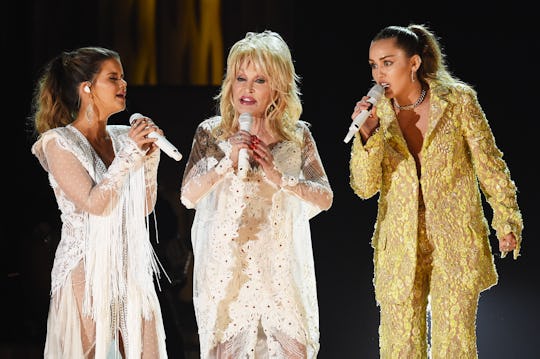 Kevin Winter/Getty Images Entertainment/Getty Images
Twitter Is In Awe Over Dolly Parton's Incredible Performance At The 2019 Grammys
At the 61st annual Grammy Awards on Sunday night, the Dolly Parton was honored at the ceremony as Person of the Year. And to celebrate the country music legend's successes and charitable contributions over the years, a number of talented female artists and country stars joined her on stage for one totally epic show. In fact, Dolly Parton's Grammys performance left Twitter in absolute awe.
On Feb. 10, Parton hit the coveted Grammys stage for the first time since 2001, according Entertainment Tonight. And with that stage missing her presence for the past 18 years, people were ready to be wowed by the legend herself.
Parton, who's taken home eight Grammy awards over the years, performed on stage with Miley Cyrus — who is, fun fact, Parton's goddaughter — Katy Perry, Maren Morris, Kacey Musgraves, and Little Big Town.
The performance started with Musgraves and Perry singing Parton's iconic hit "Here You Come Again." Parton then joined the pair, and, TBH, at the point, people watching at home and all across the internet turned into a puddle of emotions and awe. And celebs in the audience watching at the actual Grammys couldn't contain their excitement for this performance.
The guys from BTS, in fact, were bopping along to Parton's 1973 hit "Jolene," as seen in this adorable video below.
And apparently Jungook from the South Korean boy band was spotted tearing up.
And Smokey Robinson couldn't take his eyes off the stage.
Ana Navarro was left feeling wowed and impressed, like everyone else. "Folks, Dolly Parton is 73 years old. I'll have what she's having," she tweeted.
After her performance, one viewer summed up about everyone's thoughts. "I feel Dolly Parton is our only chance to unite the country right now," Jason Riley from WDRB tweeted.
Needless to say, Parton's performance was incredible and beyond memorable, as was to be expected. After all, according to Variety, Parton is "one of the most successful country artists of all time" and has acquired enough awards, including Grammys, over the last few decades to fill an NYC studio apartment to the brim.
But beyond her performance, though, some people took to Twitter on Sunday to remind people of Parton's philanthropic work. According to NPR, the country music legend has given 100 million — yes, that's right: 100 million — children's books to the Library of Congress' Imagination Library over two decades.
What's more, according to The Boot, Parton donated $1 million to the Monroe Carell Jr. Vanderbilt Children's Hospital in 2017 and in 2016, Parton used her celebrity status to help fundraising efforts following a "catastrophic" wildfire in Tennessee.
Indeed, Parton has lived a virtuous, remarkable, and admirable life in her 73 years. And although some details of her performance with other country music hall of famers were shared ahead of Sunday night, according to Rolling Stone, people were still completely stunned to see it happen in action and help honor the legend herself in the moment.