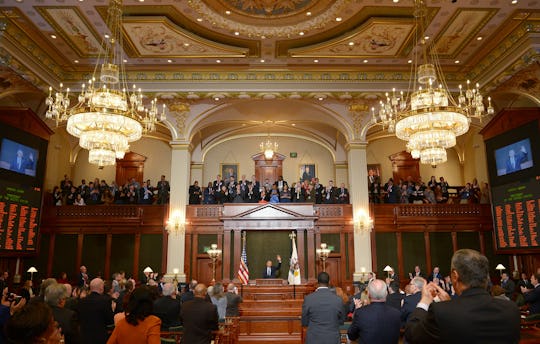 MANDEL NGAN/AFP/Getty Images
Domestic Workers In Illinois Just Won A Major Victory
Domestic workers in Illinois just won a huge victory, and it's reason to celebrate. Illinois' Domestic Workers Bill of Rights just got passed by the state Senate, bringing it one step closer to becoming a reality. If the bill is signed into law, Illinois would become the sixth state with a Domestic Bill of Rights, and housecleaners, home care workers, and nannies would be provided with minimum wage, protection from sexual harassment, and one day off of work a week — basic labor laws that, for some reason, domestic workers are usually denied.
"Domestic workers have been a critical part of our homes and economy, freeing up the time and attention of working families across this state. And as a working parent, I have experienced first-hand just how important their work is," Rep. Lisa Hernandez, who co-sponsored the bill, told the National Domestic Workers Alliance after the bill passed. "The Domestic Workers Bill of Rights is a historic moment for Illinois, helping to not only professionalize the industry, but also elevate the quality of care for our working families."
The fight's not 100 percent won yet. What's next for the Domestic Bill of Rights? It now needs a final vote in the House, along with Gov. Bruce Rauner's signature within the next two months, to go from bill to law.
It's a bill that needs to be passed. A 2012 study that spoke to over 2,000 domestic workers across the United States showed that nearly 70 percent of live-in workers were paid under minimum wage, 85 percent didn't get paid overtime, and only 4 percent of domestic workers were provided with employer-covered health insurance (65 percent had no health insurance at all).
91 percent of domestic workers haven't complained about unsuitable working conditions out of fear that they would lose their job — which is an understandable fear, considering that 23 percent of fired domestic workers lost their jobs due to protesting their work conditions. A further 18 percent were fired after pointing out contract violations.
Job protection, freedom from sexual harassment, and a livable wage are all benefits that workers in all industries should have. Denying basic labor laws to an entire field is completely backwards in 2016, so seeing the Domestic Workers Bill of Rights make progress in Illinois is encouraging for domestic workers across the United States. By adding to the number of states with protections for domestic workers, we can start to right a wrong that never should have been there in the first place.