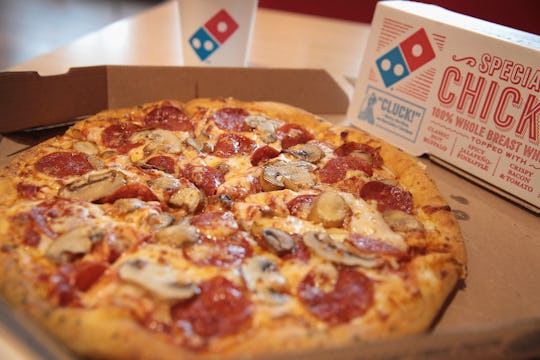 Scott Olson/Getty Images News/Getty Images
PSA: Domino's Now Has A Baby Registry, & It's Selling More Than Just Pizza
There might be a lot of things in the world that have the ability to prompt passionate arguments and stark stances, but there is one thing that just about everyone can agree on: pizza is awesome. And now, Domino's has a baby registry for parents-to-be who love pizza. In February, the company announced that it had launched a wedding registry, according to People, complete with food delivered to bachelor and bachelorette parties, as well as the honeymoon or wedding night. And now, in November — yes, that's nine months later — the company has launched a baby registry.
Domino's director of digital marketing, Meenakshi Nagarajan, told People that the reasoning behind the new registry was fairly straightforward. "There's nothing more exciting – and exhausting – than welcoming a new member to the family," Nagarajan told the publication. "From baby showers to the big delivery, our baby registry makes it easy to enjoy pizza during the exciting events leading up to the baby's arrival and thereafter."
As just about every parent will tell you, there is really no way you could go wrong with gifting a new parent some free pizza. And now, one of America's most popular pizza chains will be there to make that happen, with the click of a button.
Technically, customers won't be able to sign up for the restaurant's baby registry program until Wednesday, Nov. 29, but the website is already up and running, here. And then, the fun really starts. According to People:
Leaving typical items like diapers, strollers and car seats in the dust, the website allows people to purchase different food packages, party essentials (think pizza-themed decorations), and pizza swag including shirts, yoga mats and onesies. Every gift will be delivered as Domino's eGift cards.
So, not only is the website super easy to use, but it includes a lot of variety as well. And the names of the item offerings are also pretty darn hilarious. With gift packages like "Sleeping Through The Night - Trust us. It's a reason to celebrate," and "Hormonal and Hangry - The struggle is real," Dominos clearly knows how to market to their baby-having demographic.
And the gift options don't just include food items. The website will also offer "Swag, clothes and other fun stuff for pizza loving parents," including an exercise mat, a coffee mug, and and several clothing options as well. In fact, the Domino's baby registry also includes a matching T-shirt set for a parent and baby (with pizza on it, of course), and a maternity shirt that reads "Pizza for two, please." Oh, and there's also a onesie that says "Daddy loves me more than pizza," which, let's be honest, is kind of saying a lot.
When the pizza chain first announced their wedding registry back in February, the digital marketing director Kate Trumbull, told The Knot, "Our customers constantly tell and show us on social media how pizza plays a role in their wedding, whether it's for the bridal party, a late-night treat for the reception and other day-of experiences." And honestly, doesn't a pizza baby registry kind of make sense?
Becoming a first-time parent is a stressful and confusing time for anyone, and — let's be honest — pizza can basically help in any situation. Whether that's a gift card for pizza delivery or a matching T-shirt with a picture of a pizza on it, it's basically a given that any parent, whether they're new or a total parenting pro, will always appreciate it. Trumball went on to tell The Knot, "Who doesn't love pizza? From our perspective, you can give and receive a wide range of really fun, unique packages that tailor to the couple."
And she's right. Who wouldn't enjoy pizza, to celebrate some of the most exciting times in their life?
Check out Romper's new video series, Romper's Doula Diaries:
Watch full episodes of Romper's Doula Diaries on Facebook Watch.