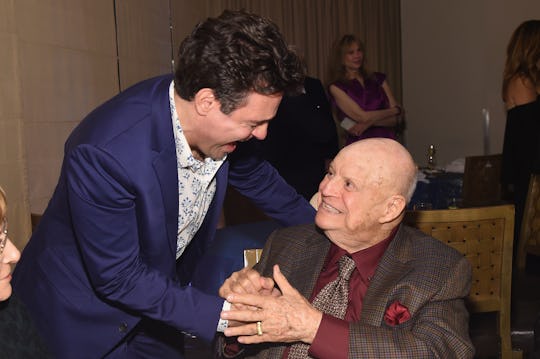 Larry Busacca/Getty Images Entertainment/Getty Images
Don Rickles' Mr. Potato Head Quotes Will Help You Heal
Friends, family, and devoted fans of Don Rickles were in mourning this week after TMZ reported that the legendary comic and iconic actor had died at the age of 90. Rickles, known for both his roles in such dramatic films as Run Silent, Run Deep with Clark Gable and Burt Lancaster as well as his turn as George Wilson in the children's flick Dennis the Menace, was a longtime fixture on Johnny Carson's Tonight Show and spent years building his fan-base on The Late Show with David Letterman. However, it was Rickles' role and quotes about playing Mr. Potato Head in the beloved Disney-Pixar hit Toy Story that prove to both children and nostalgic parents everywhere why he'll be sorely missed.
Rickles first gained recognition in the 1950s, after poking fun at iconic singer-actor Frank Sinatra during a stand-up set at a Miami Beach nightclub. "I just saw your movie, The Pride and the Passion and I want to tell you, the cannon's acting was great," Rickles joked, referring to the 1957 Napoleonic War film, in which Sinatra played rebel leader Miguel. Sinatra immediately took a liking to the notoriously irreverent comedian (unsubtly dubbed "The Merchant of Venom"), and, as they say, the rest was history: Given Sinatra's influence as a Hollywood heavyweight, Rickles was able to establish himself as a popular Las Vegas performer and, later, as a Hollywood favorite himself.
However it was Rickles' aforementioned run as Mr. Potato Head, the sometimes cantankerous kid's toy and a central player in the Toy Story franchise, that sealed the comedian's popularity with both young and old. The role itself was something of a dream come true for the comedian, who expressed in several interviews that he had grown up playing with the iconic plastic toy, according to Jim Hill Media — and Rickles' excitement over the role didn't stop there.
Below, just a few of the late comedian's thoughts on Toy Story, Mr. Potato Head, and his own Disney legacy, as well as a few nuggets of wisdom from Mr. Potato Head himself.
On His Legacy As Mr. Potato Head
"I busted my bird for 60 years in the business, but my grandkids only know me as Mr. Potato Head," Rickles once joked, in an interview with Maxim.
On Playing The Potato For His Grandkids
"It's a lot of fun to be in this cast," Rickles told ScreenSlam in a 2014 red carpet interview. "Everybody talks about it constantly — they say [it's] 'the third Potato Head.' For me, all my grandchildren are here, and it's a big kick for them."
On His Initial (Hilarious) Reluctance To Take Up The Role
According to SlashFilm, Rickles wasn't always keen on playing Mr. Potato Head, joking in a July 2015 interview,
They just signed me to do the fourth Toy Story. We start [work on it] in September, and I'm very delighted with that. … When John [Lasseter] approached me for the first one, I said, "I don't do comedy with cartoons, dummies and toys. Leave me alone." And [John] said, "No, you're gonna love this!" Then he told me the money and how nice it was going to be and, I said, "Yeah, I can give it a try." All of a sudden it's going on 17 years.
Mr. Potato Head, On Jealousy
It's hard not to think that Rickles was infusing a bit of his own biting wisdom and life experience into his role as Mr. Potato Head when, in the first film installment, his character fumed, to Woody the Cowboy,
Couldn't handle Buzz cuttin' in on your playtime, could ya Woody? Didn't want to face the fact that Buzz just might be Andy's new favorite toy, so you got rid of him. Well, what if Andy starts playin' with me more, Woody, huh? You gonna knock me outta the window, too?
Rickles himself, though a self-described nice guy, admitted in the aforementioned Maxim interview that he and notorious "tough guy" Sinatra managed to still hit it off because there was a level of respect between them, which allowed him to say things to Sinatra that others normally wouldn't. You could argue then, that this bit of his own personality shone through when he was asked to do the same in Toy Story.
That Moment When Mr. Potato Head Was Don Rickles
Last but not least, everyone's favorite on-liner from the Toy Story franchise, one that kids today still reference in their Twitter and Tumblr posts, and one in which perhaps just a little too much "Rickles" shone through. In the scene, Mr. Potato Head walks up to piggy bank Hamm, facial features all distorted, and jokes, "Hey Hamm, look! I'm Picasso!" To which Hamm, voiced by the equally hilarious John Ratzenberger, replies, "Eh... I don't get it."
Mr. Potato Head's far-too-Rickles, one-liner response?
... You uncultured swine!
If that sounds like something pulled straight from a Don Rickles stand-up act, it's likely because it very well could be (Rickles was, after all, known for his willingness to go after the audience as well).
Still, in the end, as Rickles himself noted, he was a softie deep down inside — and that combination of caustic sarcasm and warmth, which he brought to the Toy Story films so well, is exactly why everyone will miss him.