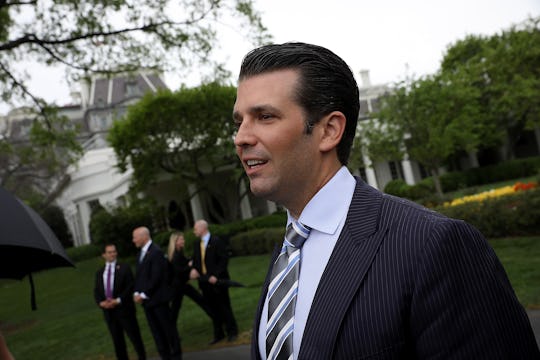 Win McNamee/Getty Images News/Getty Images
Donald Jr. Left Out This Huge Detail About His Russia Meeting
President Donald Trump's son, Donald Trump Jr., recently made headlines when news emerged that he had attended a meeting in June 2016 with a Russian associate who reportedly had negative information to share about opponent Hillary Clinton. Now, according to the Associated Press, further information has come to light about the meeting, and it turns out Trump Jr. left out a huge detail when talking about his Russian get-together. According to the outlet, there was also a Russian-American lobbyist present at Donald Trump Jr.'s meeting, Rinat Akhmetshin, a man whom some have identified as a former Russian counterintelligence officer.
Trump Jr. first released his emails about the meeting earlier this week, revealing that he, former campaign manager Paul Manafort, and senior adviser Jared Kushner met with Russian attorney Natalia Veselnitskaya to discuss reportedly incriminating information about Clinton. Speaking about the meeting afterwards, Trump Jr. confirmed Veselnitskaya's attendance at the meeting, but said nothing of Akhmetshin's presence.
Akhmetshin then told the Associated Press on Friday that he had indeed been at the meeting, but called it "not substantive." He denied media claims that he had formerly trained as a spy.
"I never thought this would be such a big deal to be honest," he told the Associated Press. He said that, at the meeting, Trump Jr. had asked Veselnitskaya for evidence that the Democratic National Committee was receiving illicit funds, information that Veselnitskaya couldn't provide. Akhmetshin said that Veselnitskaya brought a folder of documents to the meeting, but couldn't clarify what the documents were or if they were passed on to Trump Jr. or his associates.
Romper reached out to the White House for comment, but did not hear back immediately. However, Alan Futerfas, Trump Jr.'s attorney, told NBC News that he had spoken to one of the men accompanying Veselnitskaya. "He is a U.S. citizen," Futerfas told NBC News. "He told me specifically he was not working for the Russian government, and in fact laughed when I asked him that question."
Futerfas added that he had no concerns about the information exchanged in the meeting, based on what he knew. Speaking to Fox News on Tuesday, Trump Jr. also described the meeting as "a nothing," saying:
I wouldn't have even remembered it until you started scouring through this stuff. It was literally just a wasted 20 minutes, which was a shame. ... I don't think my sirens went [off] or my antenna went up at this time because it wasn't the issue that it's been made out to be over the last nine months, ten months.
Despite the Trump camp's assurances that nothing of importance took place during the 20-minute meeting, the exchange is sure to draw interest from Congress' investigation into Russian meddling in the 2016 elections — especially if any further details emerge.