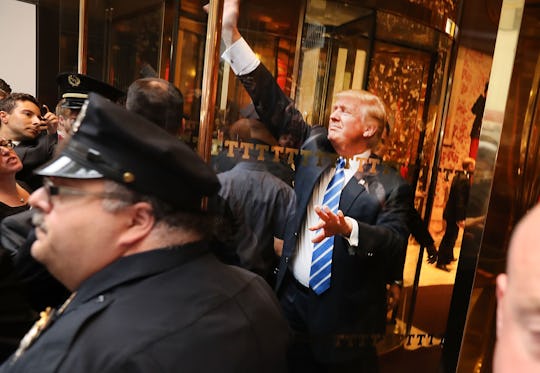 Spencer Platt/Getty Images News/Getty Images
Donald Trump Appears With Bill Clinton's Accusers Ahead Of Debate, Against Advice
Ahead of the second presidential debate on Sunday night, Republican nominee Donald Trump appeared with four of President Bill Clinton's accusers, posing with them for photos at a St. Louis hotel not far from the debate venue at Washington University. Trump introduced each woman before allowing them to give a brief rundown of their claims against the former president. The sit-down was a controversial move, given Trump's own recent scandals, stemming from a 2005 conversation the mogul had with Access Hollywood host Billy Bush, in which he made several lewd admissions about his alleged treatment of women.
The four women on the press conference panel included Paula Jones, Kathy Shelton, Juanita Broaddrick, and Kathleen Willey.
Jones, a former Arkansas state employee, previously accused Clinton of allegedly exposing himself to her in a Little Rock hotel room in 1991 and sued him in 1994 for sexual harassment, seeking $750,000 in damages. Clinton and Jones eventually reached an out-of-court settlement in 1998, with Clinton agreeing to pay Jones $850,000 to drop the suit.
Shelton, the 12-year-old rape victim that faced Democratic candidate Hillary Clinton when she was a legal aid defense lawyer in 1975, took to the presser on Sunday night to speak out about her qualms with the former Secretary of State. Shelton mentioned a now-debunked audio recording of Clinton "laughing" at the case, claiming that Clinton knew suspect Thomas Alfred Taylor was guilty of the crime for which he had been accused. Taylor's charges were later reduced to "unlawful fondling of a child under 14" due to lack to "lack of evidence," according to Heavy.
In the audio recording, Clinton could be heard criticizing polygraph technology:
Of course he claimed he didn't. All this stuff. He took a lie detector test. I had him take a polygraph, which he passed, which forever destroyed my faith in polygraphs. [laughs]
Kathleen Willey was a former White House volunteer aide who in 1998 alleged that former President Clinton sexually assaulted her during his first term as president. In an interview with CBS' 60 Minutes that year, Willey alleged that Clinton had met her in his study off of the Oval Office where he allegedly "embraced her tightly, kissed her on the mouth, fondled her breast and then placed her hand on his genitals," according to CNN Politics. Following a sordid media trial, in which Willey was accused of pursuing a sexual relationship with the president, Clinton denied the charges, and Independent Counsel later declined to prosecute on the grounds of insufficient evidence.
Broaddrick is perhaps the most recognizable of the four women, at least in terms of recent news. In 1978, Broaddrick claimed that then-Arkansas Attorney General Clinton allegedly raped her some time after meeting her at the nursing home where she worked. In 1999, Broaddrick claimed in an interview with The Washington Post that Clinton had "encouraged her" to call him and set up a date following their meeting, the next time she was in Little Rock. Broaddrick agreed and set up a coffee meeting in the lobby of her hotel at the time, claiming that Clinton suggested they go back up to her room to avoid reporters. According to The Post, Broaddrick then said,
... [Clinton] began kissing her. She resisted his advances, she said, but soon he pulled her back onto the bed and forcibly had sex with her. She said she did not scream because everything happened so quickly. Her upper lip was bruised and swollen after the encounter because, she said, he had grabbed onto it with his mouth.
"The last thing he said to me was, 'You better get some ice for that.' And he put on his sunglasses and walked out the door," she recalled.
Broaddrick later gave an official affidavit to investigators in 1998, according to NPR. She also claimed that while Clinton and his lawyers denied the accusations, Secretary Clinton also allegedly intimidated her, shaking her hand at an event a short time later and thanking her for "everything you are doing in Bill's campaign." No charges were ever brought against Clinton.
On Sunday night, Trump's camp seated the four accusers in the debate hall audience at Washington University. "That's right Hillary, I'm here at the debate," Shelton tweeted. "You let my rapist free when I was 12 years old. Keep denying it, but it won't go away." Broaddrick, also seated in the audience, tweeted,
Hillary calls Trump's remarks "horrific" while she lives with and protects a "Rapist". Her actions are horrific.
In response, Clinton declined to face the allegations head on in Sunday's debate, quoting the first lady instead:
"I'm reminded what my friend Michelle Obama said, 'When they go low, I go high."