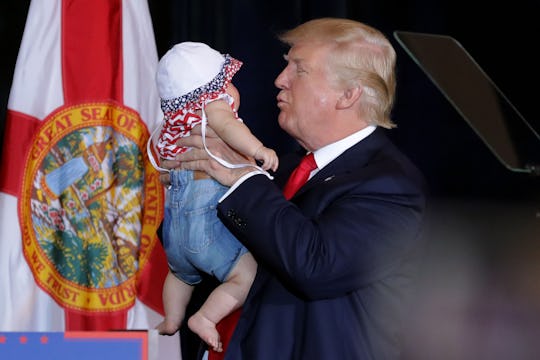 Chip Somodevilla/Getty Images News/Getty Images
Donald Trump Brings A Baby On Stage During A Rally & It Was Bizarre
At one of his final campaign rallies before Election Day, Donald Trump brought a baby on stage before beginning his speech and it was a bizarre sight to see. The GOP nominee declared that the baby, who he plucked from parents in the crowd, was a "future construction worker" and an "early Trump fan." After kissing the baby three times and raising him up so the whole audience could see, Trump handed off the baby to be returned back to his parents, who he said "did a great job."
Trump's headline-grabbing baby stunt happened on Saturday in Tampa, Florida, where he needs to secure 29 electoral votes to have a shot at winning the presidential election against Democratic nominee Hillary Clinton.
"Look at that baby, so cute," Trump said on Saturday before bringing the baby on stage. "Oh! Give me that baby. That baby."
He then walked back to the stage with the baby, planted a smooch on his cheek, and then held him over head like Rafiki did with Simba in the The Lion King. While it wasn't entirely clear why the Republican candidate proclaimed that the baby would be a construction worker in the future, the baby did not look especially happy on stage as he whimpered into the microphone.
Politicians — both Republican and Democrat — kissing babies isn't anything new, it's been happening for decades. It's a tactic to help politicians reflect that a strong powerful figure can also have a soft and caring side, especially when an adorable baby is around.
"The 'perfect candidate' is strong enough to take on our enemies, but gentle and caring enough to pick up a baby and hold," Upworthy writer Jon Comulada explained back in April.
But, Trump hasn't had the most glowing or awe-inducing track record throughout this election between him and babies. In fact, it's been a bit complicated.
Back in August at a rally in Ashburn, Virginina, for instance, he asked a woman with a crying baby to leave his rally, telling the mother to "get the baby out of here." The mother and baby were never actually kicked out of the rally — she reportedly decided to leave the auditorium on her own and came back to their seat a bit later after the baby calmed down — but Trump's words about the situation did sound rather harsh.
With Nov. 8 only days away, Trump holding and kissing the baby in Tampa may very well have been a political stunt meant to appeal to voters who have wanted to see a softer and more caring side of the Republican candidate.
But regardless of the motives behind the rather awkward on-stage interaction, candidates kissing babies has become a bizarre tradition in American politics and voters shouldn't be distracted from larger issues and each candidates' stances on important policies — no matter how cute the baby is.