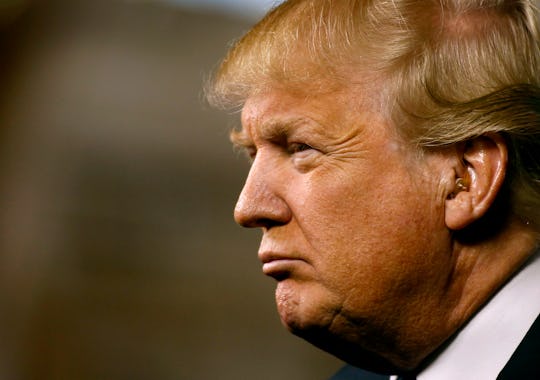 Donald Trump Calls Bill Clinton An "Abuser," But Not Everyone Thinks His Comments Were Off Limits
In a series of attacks on Democratic frontrunner Hillary Clinton, Donald Trump called Bill Clinton "one of the great abusers of the world" at an end-of-the-year rally Wednesday in Hilton Head, South Carolina, The Hill reported. But what is Donald Trump without a bit of controversy? And with Bill taking a larger role in Clinton's presidential run, people can expect The Donald to bring up the Clintons' past — regardless of if it's relevant — more often.
Trump also claimed that women "don't like Hillary Clinton" at the Wednesday's rally, according to the Hill. "She's hitting me really hard with the women card," he said. "She's not going to win." And in true Trump fashion, he took the opportunity to further strike two of his adversaries in one swoop:
Hillary is a disaster. She's controlled by her money, so is Jeb. She has lower energy than Jeb Bush.
Trump began an offensive on Bill earlier this week, as he is slated to take the campaign trail with Bill's wife in the next couple of days. Mainly the Republican presidential frontrunner has brought up Bill's affairs outside of his marriage, which overshadowed his second term. Trump tweeted that Bill had a "terrible record of women abuse" on Wednesday as well. Though outlets like The Week are calling Trump's comments in poor taste, he told NBC's Today on Tuesday that Bill's sexual indiscretions are relevant to this election cycle:
You look at whether it's Monica Lewinsky or Paula Jones or many of them. That certainly will be fair game. Certainly if they play the woman's card with respect to me, that will be fair game.
At Wednesday's rally, Trump further defended his choice to make said remarks. "I had to mention her husband's situation," noting, yet again, that he believed Clinton was an abuser.
Washington Post columnist Ruth Marcus seemed to hold the opinion that Clinton invited the attacks. Not only did Marcus write that the Clinton campaign almost hopes for "some good old-fashioned male chauvinist piggery [to be] directed her way," but she also wrote that Bill's role in Clinton's campaign and her bringing up Trump's "penchant for sexism" to the Des Moines Register earlier this month opened the door for comments like the one Trump made.
"Into this gender minefield lumbers Trump, characteristically unbound and deploying a weapon that none of Clinton's Democratic opponents, past or present, has dared to mention. He played the Bill Card," she wrote. In the Dec. 28 piece, Marcus continued to explain why, yes, Trump's comments (but not all of them) are not off-limits:
Bill Clinton has a penchant for something. [...] "Sexism" isn't the precise word for his predatory behavior toward women or his inexcusable relationship with a 22-year-old intern. Yet in the larger scheme of things, Bill Clinton's conduct toward women is far worse than any of the offensive things that Trump has said. Trump has smeared women because of their looks. Clinton has preyed on them, and in a workplace setting where he was by far the superior. That is uncomfortable for Clinton supporters but it is unavoidably true.
Whether his comments are offensive or not seems to have little bearing on The Donald's presidential run. After all, Trump's is still leading the polls despite insulting everyone under the sun. So, in a way it's...working? And with Clinton doing just as well according to a Dec. 28 Rasmussen Reports poll, she can probably expect more off-color remarks about her and her husband — especially from this election season's king of personal attacks.
Image: Ralph Freso/Getty Images;Giphy