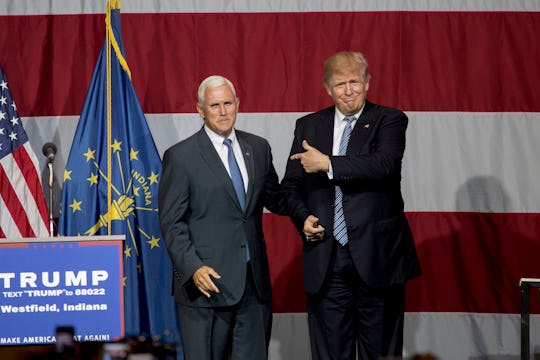 Aaron P. Bernstein/Getty Images News/Getty Images
Donald Trump Chooses Mike Pence As His Running Mate, Roll Call Reports
UPDATE: Trump confirmed Pence as his vice presidential running mate in a tweet Friday morning and said he would host a news conference on Saturday.
The search for a Republican vice presidential nominee may be over. According to Roll Call, presumptive Republican nominee Donald Trump's running mate is Indiana Governor Mike Pence. Trump's communications adviser Jason Miller refuted the report on Twitter, claiming that Trump had not yet made his selection.
Trump said he would formally announce his pick for vice president on Friday, ABC News reported. His top three choices appeared to be Pence, New Jersey Gov. Chris Christie, and former Speaker of the House Newt Gingrich. Though Pence initially endorsed Cruz, he recently started campaigning with Trump; according to BBC News, Pence and Trump met for a private conversation on Wednesday at Pence's house. In addition to Trump campaign chair Paul Manafort, ABC News reported that three of Trump's children (Donald Trump Jr., Eric Trump, and Ivanka Trump) also attended the meeting. Ivanka's husband, Jared Kushner, joined them.
Pence began his tenure as Governor of Indiana in January 2013; his bio indicates that he grew up in Columbus, Indiana and graduated from both Hanover College and Indiana University School of Law. He is known for his commitment to tax reform, enacting "the largest state tax cut in Indiana history." Before becoming governor, he served in Congress and chaired both the Republican Study Committee and the House Republican Conference. Pence and First Lady Karen Pence are the parents of three kids.
Jason Miller, Trump's communications adviser, tweeted that Trump had not yet chosen a running mate:
If Pence is a frontrunner, a quick decision is critical: according to The Atlantic, Pence's deadline to end his campaign for reelection in Indiana is Friday. Trump seemed to tip his hand during a rally Tuesday; after both he and Pence spoke, Trump told Indiana supporters that he wasn't sure whether Pence would be their governor or vice president by next year.
For many Republicans, Pence could be a sensible choice for Trump. In an op-ed for the Los Angeles Times, Indiana native Craig Fehrman wrote that many pundits feel Pence could be a counterweight: "Where Trump is impulsive, Pence is disciplined; where Trump is brash, Pence is calm; where Trump is ideologically pliable, Pence is sturdily conservative." Fehrman went on to argue that Pence's record in office indicates that he's more likely to be a "yes man" than a leader. Though Pence seemed to eye an eventual presidential run, his support of Indiana's Religious Freedom Restoration Act (the RFRA, questioned for jeopardizing the rights of members of the LGBT community) hurt his national reputation. According to Fehrman, vying to become vice president may be his best path forward:
As a connoisseur of power, Trump must understand Pence's motives. But he also must know that those motives make Pence an ideal partner: He'll do what he's told, even if it contradicts his actual beliefs, just so long as it's good for the career of Mike Pence.
Pence would provide the political experience Trump seems to be looking for: he spent 12 years as a congressman, NBC News reported. Though signing the RFRA didn't earn him respect from the left, Pence's early and consistent allegiance to Tea Party ideals appeals to the far right. His advocacy for strict abortion laws is polarizing, but he tends to have major evangelical support. Pence is divisive, but so is Trump; to conservatives, they may pair well together.