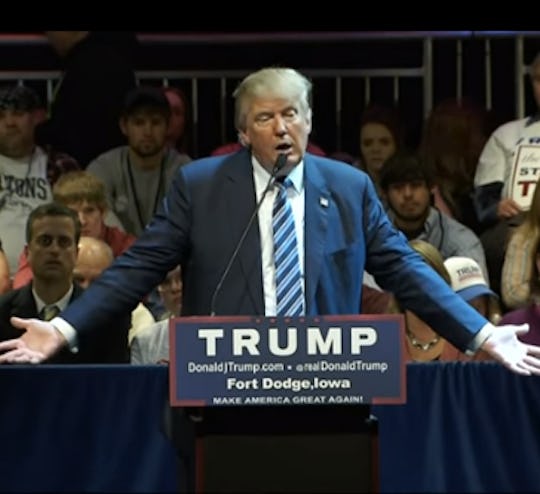 AP/YouTube
Donald Trump Compares Ben Carson To A Child Molester, & His Supporters Aren't Sure What To Think About It
If there's one thing we know for sure about Donald Trump, it's that he is not afraid to say exactly what is on his mind. He's built an entire campaign — successfully — on his straight-shooting, no-nonsense attitude, and his supporters have seen it largely as a breath of fresh air. But some critics are beginning to wonder if Trump is beginning to alienate his supporters with some of his controversial comments. At a rally in Fort Dodge, Iowa Thursday night, Trump launched an intense personal attack on Ben Carson, going as far as to compare Carson's self-admitted "pathological temper" to that of a child molester, who has similar "incurable" pathological behavior. (Romper reached out to the Trump campaign Friday for further comment, but our request was not immediately returned.)
That wasn't the only punch Trump threw Ben Carson's way, though. After once again calling into question Carson's claims that he tried to stab someone with a knife as a teen, Trump attempted to demonstrate with an imaginary knife what he considered to be the improbability of Carson actually hitting his friend's belt buckle instead of his abdomen and then breaking the knife as he claimed. He then went on to dismiss Carson's claim that the incident led him to find his strong belief in God, saying, "give me a break. It doesn't happen that way." But he didn't stop there. With Carson emerging as a strong Trump competitor, surging ahead of him in the polls in certain states (including Iowa), Trump didn't hold back in calling voters out, asking "how stupid are the people of Iowa? How stupid are the people of the country to believe this crap?"
Although Trump supporters have traditionally rallied around the unlikely GOP frontrunner despite his often off-color remarks, the Washington Post reports that Thursday's rally in Iowa might be a sign that Trump is beginning to push them too far:
At first, the audience was quick to laugh at Trump's sharp insults and applaud his calls to better care for veterans, replace the Affordable Care Act and construct a wall along the Mexican border. But as the speech dragged on, the applause came less often and grew softer. As Trump attacked Carson using deeply personal language, the audience grew quiet, a few shaking their heads. A man sitting in the back of the auditorium loudly gasped.
The Iowa rally came toward the end of a busy week for the candidate — it was the fourth state Trump visited in just as many days, and some are wondering if his schedule is beginning to take a toll on his composure. It's not entirely clear yet how Trump's tirade will affect his standing in the polls, given Ben Carson's continued popularity, it sounds like Trump probably won't be backing down any time soon.
Images: AP/YouTube; Giphy (1)