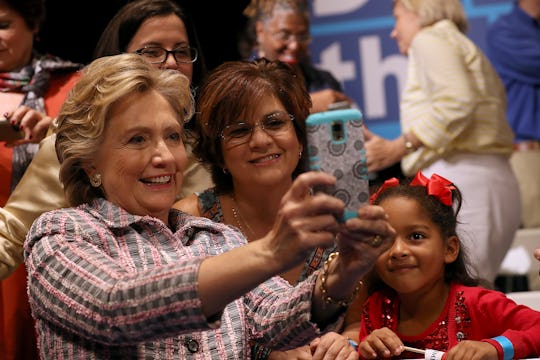 Justin Sullivan/Getty Images News/Getty Images
Donald Trump Dismissing Hillary Clinton's 30 Years Of Public Service Has Sexist Undertones
At the second presidential debate it became even clearer that Donald Trump has never held a political position. Although his presidential nomination has set an unprecedented standard in terms of the level of public service necessary for a candidate to have their name on the ballot, Trump continues to dismiss Hillary Clinton's 30 years of public service as if it's nothing — and it's bleeding with sexist undertones. The Democratic candidate, in fact, has spent decades helping women and children through both public and private sectors, but Trump continues to dismiss her work as a failure — even though he allegedly hasn't paid taxes for decades and has a track record of bad business choices, in addition to innumerable personal scandals that have plagued him in recent days.
"Donald talks about my 30 years in public service, I'm proud of that," Clinton said on Sunday night. "... I want to take all that experience to the White House and do that every single day."
Those 30 years that keep getting brought up throughout this presidential election started in the years after she earned a law degree from Yale University and while she served as first lady. During this time she tackled many problems facing families, such as foster care, adoption, and family safety and also provided pro bono legal work in child advocacy, among many other commendable acts of public service.
For decades, the 68-year-old has used her position to make women's rights and human rights a central platform of discussion and once said in an influential speech that "human rights are women's rights and women's rights are human rights."
Despite this extensive resume of public service, one thing is exceedingly clear: that Trump's dismissal of her work is surely a political strategy.
These sexist undertones did not go unnoticed on social media:
While Trump doesn't deny that Clinton's experience actually exists, he regards it as "bad experience."
"I agree – she's got experience, but it's bad experience," Trump said at the first presidential debate in September. "And this country can't afford to have another four years of that kind of experience."
Many can and will argue that Clinton's tenure as Secretary of State had its pitfalls, but Trump's complete lack of public experience is something that should also be addressed because electing a billionaire real estate mogul with a record of failed businesses and a long line of alleged misogyny is a major risk to consider.
It's a sad reality that Trump as a presidential candidate continues to reflect this type of chauvinistic attitude, but Clinton has proven time and time again that her tenacity can stomp out this type of sexism — and her decades of public service as an active first lady and a champion of women's rights and child advocacy has only prepared her for this election in the best way possible, no matter what Trump and his followers may think.