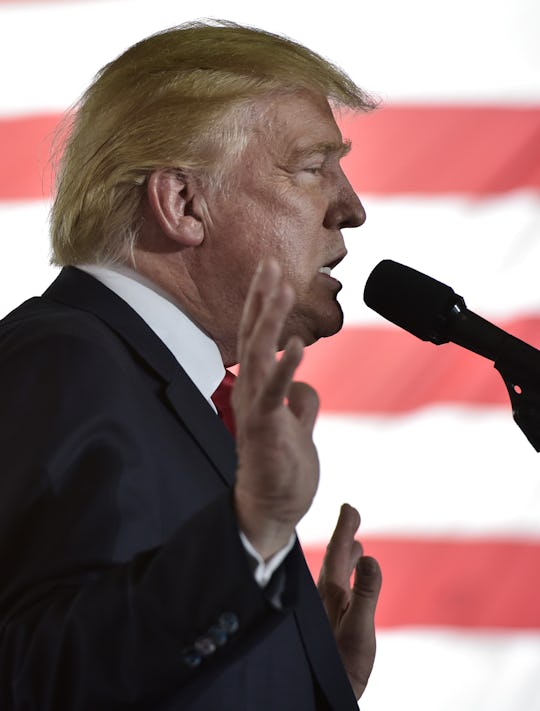 MANDEL NGAN/AFP/Getty Images
Donald Trump 'Entertainment Tonight' Footage Spells Even More Trouble For The GOP Nominee
In a newly resurfaced video, the icky sludge that's been oozing from the Republican presidential nominee's campaign continues its deluge. On Wednesday evening, Entertainment Tonight footage featuring Donald Trump in which the mogul triumphantly tells the camera that he believes he'll one day date one of the 10-year-old girls who met him at Trump Tower in 1992 reached audiences again. "I am going to be dating her in 10 years," he unabashedly says of one of the children, CBS News reported. "Can you believe it?"
The video, shot for an Entertainment Tonight Christmas feature 24 years ago, when Trump himself would have been 46 years old, has reemerged just days after The Washington Post published an anonymously leaked, never-before-seen 2005 video of the candidate bragging about allegedly forcing unwanted sexual advances on women, including kissing them with no warning and groping their private parts. (Trump has since denied that he ever acted on those comments.)
The revelations of the now-notorious "Trump tape" caused many elite Republicans to denounce his comments and even the candidate himself, and prompted Republican House Speaker Paul Ryan to announce that he will no longer publicly support or campaign with Trump. Romper reached out to the Trump campaign for comment but did not immediately hear back.
In addition to launching him into a public feud with GOP leadership, the 2005 tape — during which Trump laughs with then-Access Hollywood host Billy Bush about how he believed his status as a rich, powerful celebrity allegedly gave him license to "grab [women] by the pussy" — also seems to have set off another round of affirmations that Trump's respect for women is negligible at best.
Since the 2005 video went public — with Trump's campaign taking another hit to its favorability among the electorate in general and female voters in particular, as new, damning polls show — he has repeatedly tried to dismiss the conversation as "locker room talk" and denied ever actually sexually assaulting anyone. But on Wednesday, the same day that CBS News reported on the 1992 Entertainment Tonight clip, The New York Times also published accounts from two women who allege that Trump had previously advanced on them without their consent. Their stories mirror the candidate's own words in the 2005 tape: One told The Times that, more than 30 years ago, Trump, who was a stranger to her, allegedly grabbed her breasts and attempted to put his hand up her skirt on a plane. The other, who worked in Trump Tower when she was 22 in 2005, described how he had allegedly "kissed [her] directly on the mouth" when she introduced herself to him for the first time.
Trump angrily denied both of these accounts, according to The Times, before threatening to sue the outlet.
If true, Trump's treatment of these women is inexcusable. But just as his comments about a 10-year-old show, Trump has a long, long track record of demonstrating allegedly inappropriate behavior. He has, for example, said that he would be dating his daughter Ivanka if she were not his daughter, and has also remarked that his dating "field is getting very limited" because Ivanka Trump, who was 17 at the time, had made him promise never to date anyone younger than her.
Trump's alleged preference for young women reportedly extends into his business ventures as well. Trump owned the Miss Universe Organization from 1996 until last year, and was not at all shy about telling shock jock Howard Stern, and the world, exactly how he capitalized on that. Here's what he said in a 2005 interview on The Howard Stern Show:
I'll go backstage before a show and everyone's getting dressed and ready and everything else. And you know, no men are anywhere. And I'm allowed to go in because I'm the owner of the pageant. And, therefore, I'm inspecting it. You know I'm inspecting it. I want to make sure everything is good. "Is everyone OK?" You know they're standing there with no clothes. "Is everybody OK?" And you see these incredible looking women. And so I sort of get away with things like that.
Also on Wednesday, BuzzFeed reported that Trump allegedly extended that privilege to the Miss Teen USA pageant as well, where some former contestants claimed he walked into the changing area where girls as young as 15 were undressed.
"Our first introduction to him was when we were at the dress rehearsal and half naked changing into our bikinis," Tasha Dixon, who competed as Miss Arizona 2001 at at 18, claimed in an interview with CBS. "He just came strolling right in. There was no second to put a robe on or any sort of clothing or anything. Some girls were topless. Other girls were naked."
Some of the other contestants BuzzFeed contacted corroborated the account, while others denied it, could not be reached, or declined to comment.
It's hard not to recognize a pattern in Trump's interactions with and statements about women, some of them very young. While some say that it allegedly ranges from inappropriate to predatory, all of it is, arguably, supremely unpresidential.