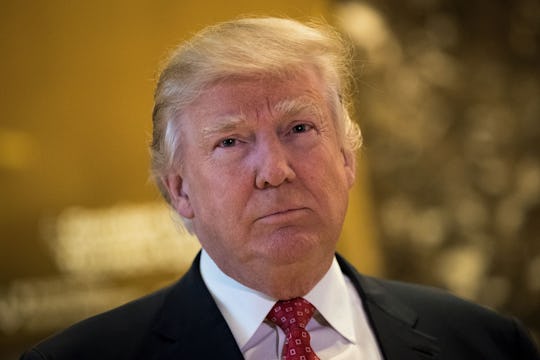 Drew Angerer/Getty Images News/Getty Images
The World Reacts To Trump's "Germaphobe" News
At a Wednesday mid-morning press conference (his first since winning the presidential election nearly three months ago), President-elect Donald Trump revealed his most shocking revelation yet: He's a germaphobe. Quickly, and unsurprisingly, Twitter flocked to the news and thus emerged some of the best Donald Trump germaphobe jokes and tweets — solidifying it as the only real news to emerge from a press conference that many had hoped would be flooded with information on his policies, appointments, and plans for the presidency — you know, the position he'll take just nine short days from now.
Many felt that the "germaphobe" comment was in direct response to allegations against the president-elect released in a dossier yesterday and published by BuzzFeed. The 35-page dossier, allegedly compiled by a former intelligence agent, reported that Trump allegedly hired sex workers to defile a bed in Moscow's Ritz Carlton Hotel presidential suite where the Obamas had once slept. The documents claim that the Trump made the sex workers perform "golden showers" on the mattress as he watched. Though the allegations in the dossier have yet to be confirmed, many believe that the "germaphobe" comment to serve as a direct denial of the allegations against him. A request for comment on the allegations against President-elect Trump was not immediately returned by the time this article published.
In the seconds after Trump stated he's a "germaphobe," Twitter took the admission and ran with it. The result? Magic, of course.
A Germaphobe Against Vaccinations? Get Outta Here!
So, What About *That* Trump Access Hollywood Tape?
But... Pee Is... Sterile?
Taxes Are Filled With Bacteria
Well, This Guy Certainly Has Feelings.
IDK, But I Just Love This. OK?
Twitter Called Your Bluff
It's worth pointing out that this isn't the first time President-elect Trump has called himself a germaphobe. According to an article written by the Washington Post in September of 2015, Trump has previous called shaking hands "one of the curses of American society." Though it's totally plausible that Trump is a germaphobe, the admission — and the way he admitted it — during his first press conference felt like a well-timed jab in response to the allegations lobbied against him in the dossier leaked to BuzzFeed.
Though these comments stand as a smokescreen for the real issues Trump will need to address once in office, it's refreshing (hehe) to know that Twitter has the last word now, and forever.