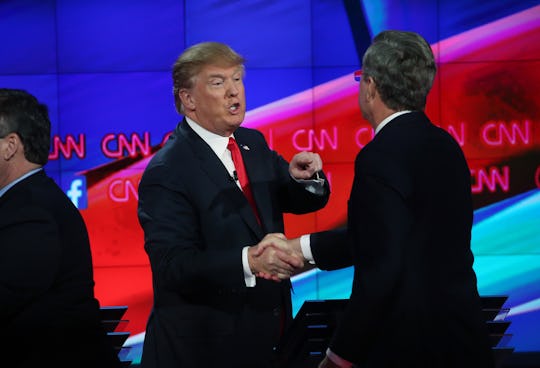 Donald Trump Got Booed During The GOP Debate For Insulting Jeb Bush, & The Audience Wasn't Wrong
The Dec. 15 GOP debate on CNN was destined to be a showdown between Donald Trump and at least one of the other candidates, and the Donald did not disappoint. Donald Trump was booed during the GOP debate after he insulted Jeb Bush — but Bush didn't pull any punches either. It all started when Jeb was asked specifically about comments he made about Trump being "unhinged" just after Trump talked about getting rid of Muslims and Mexicans, again. He said "Donald is great at one-liners" and that he was a "chaos candidate" and said that means he would make a "chaos president." He spoke at length about how to handle ISIS and refugees coming into the States.
Trump jumped at the chance to fight back. He said:
Jeb doesn't really believe I'm unhinged, he said that because he has failed at his campaign. It's been a total disaster, nobody cares. And frankly, I am the most solid person up here...All I want to do is make America great again...
Jeb wasn't having it and went right back to policy, something that's sort of Trump's weak point. He said that Trump's ideas wasn't a "serious proposal. We need a serious leader to deal with this. And I'm that guy."
Later, they even fought again, with Wolf Blitzer trying to referee. Things ended when Jeb put Trump in his place: "Donald, you aren't going to insult your way to the presidency." Low blow, Bush.
It was sort of glorious.
And then, they fought again. This time, Carly Fiorina and Kasich jumped in to shut them up, trying to shame them into being quiet. Jeb said that being president is a "tough job" and Trump teased him, "yea, you're a tough guy, Jeb." But Bush didn't even flinch. What's rather amazing is that Jeb Bush actually battled Trump successfully. He shut Trump up. I mean if you can make Donald Trump be quiet, maybe you can achieve world piece. Or find a purple unicorn.
Twitter, of course, was all over it.
Trump's poll numbers are steady, but it looks like people might be getting tired of his schtick and waiting for some actual, workable ideas.
Image: Justin Sullivan/Getty Images