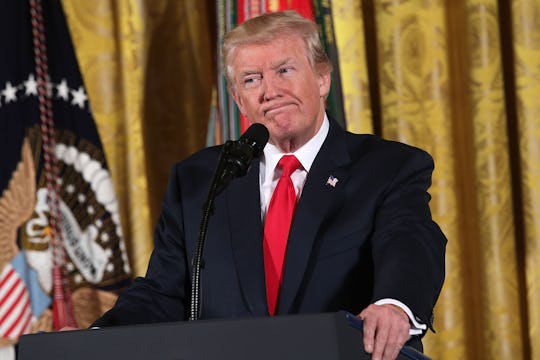 Alex Wong/Getty Images News/Getty Images
The Internet Had A Field Day With Trump's "Great Day At The White House" Tweet
Today was yet another interesting, but all too common, type of day at the White House. On Monday, President Donald Trump reportedly removed Anthony Scaramucci from his position as communications director after only 10 days on the job. Yes, in just seven short and hellish months in Washington D.C., Trump has given the boot to another member of his administration. And to most people, Monday's events don't indicate that it was exactly the smoothest day in the capital. Yet, Trump tweeted that he had "a great day at the White House" today and the Twitterverse can't stop roasting him for it.
In just a matter of hours after Trump posted the tweet on Monday, more than 22,000 comments (and counting!) have been made about it. Some remarks were witty and silly — a few came with perfectly appropriate cartoons and GIFs — while others were seriously concerned about what the heck is going on in Trump's White House and questioned what kind of message the president is sending (or trying to send) to this country and others around the world.
Either way, Twitter had a field day with Trump's tweet. And most would collectively agree that Monday was far from a "great" day at the White House and that the commander-in-chief needs to be aware of this.
So, to make sure the president, his administration, and his supporters are fully in the loop about how ironic his Monday afternoon tweeting session was, here are some of best responses people had to it on Twitter.
Some Had Jokes
Some Came With Art
Some Reminded Trump About All That's Happened Thus Far
Some Called Him Out For A Previous Tweet
Earlier on Monday, just hours after ousting the newly appointed communications director, Trump tweeted, "No WH chaos!"
And with those three words in mind, Twitter did not hold back:
Needless to say, this is one of Trump's most paradoxical moments to date. And there have been a lot of them. Indeed, he once said that he identifies more as a Democrat in the past and he's bounced between his stance on whether his stance is pro-choice or pro-life and his thoughts on gay marriage. Basically, he's no stranger to the art of contradiction.
But, all jokes and silly tweets aside, how Trump handles these types of situations is troubling and his message as the leader of the free world has consistently been all over the place. And that's just one chilling factor of Trump's presidency.