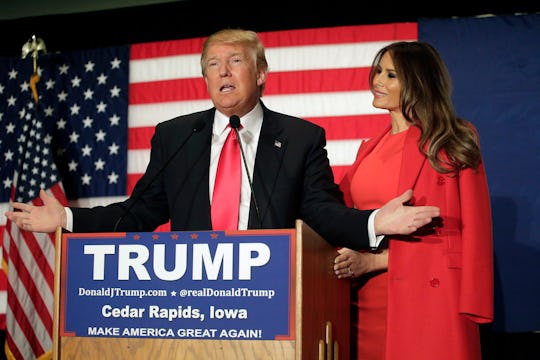 Joshua Lott/Getty Images
Donald Trump Interrupts 'Bachelor,' & Ben Higgins Fans Are Not Happy About It
Whether you agree with his politics or not, Donald Trump is all about being the center of attention. Which is fine if it's on CNN, but not on Monday nights. Because that's The Bachelor night, for most of America. And Bachelor fans were very upset that Trump interrupted Ben Higgins' quest for true love. He didn't totally get in the way, though. The two hour reality competition show was delayed for a few minutes because the Iowa caucuses were getting underway.
Here's the thing. Sure, Iowa is super important in terms of forecasting who will win the primaries and be the nominees from each party for the general election. If you're into that sort of thing, it's means who will be battling to become the next president of the United States, the most powerful office in the world, according to most.
But nothing can get in the way of Bachelor fans and Ben Higgins' heart. Fans of the Bachelor care about the future of America, of course. But the outcome of the Bachelor will have more impact in the near future on most of Americans' lives. We will know who Ben chooses, who is available to be a Bachelorette contestant. Most importantly, we need to know if Olivia is getting kicked off tonight.
Outrage fell into two camps.
The Shocked Fans
The Judging Judy's Who Just Don't Get It
And The Independents
But Bachelor Nation Put It Best
It's should be a lesson to all breaking news and pundits everywhere: never get in the way of the Bachelor.
Image: Jason Sullivan/Getty Images