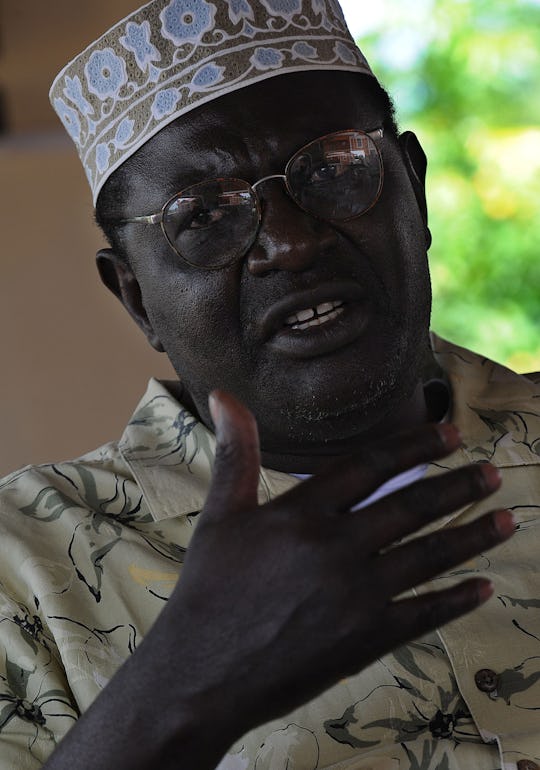 TONY KARUMBA/AFP/Getty Images
Donald Trump Invited President Obama's Half-Brother To The Final Debate & No One Knows Why
Choosing who sits in your corner appears to be vital part of debate prep this last go-around. Democratic presidential nominee Hillary Clinton has opted to invite two billionaires, Mark Cuban and Meg Whitman, to join her for the final debate. Republican nominee Donald Trump, on the other hand, has gone another direction. In a totally perplexing move, Donald Trump invited President Obama's half-brother to the final debate, and no one is really sure why.
Malik, President Obama's Kenyan-born half-brother, told the Post: "I'm excited to be at the debate. Trump can make America great again." Trump has lauded Malik as well, saying that "he gets it far better than his brother." Malik's support of Trump and his rejection of Clinton appears to be quite personal. The Post notes that Malik has remained critical of Clinton's handling of the Middle East while she was working for the State Department. A personal friend of Libyan leader Colonel Muammar Gaddafi, Malik once remarked that he was "disappointed" in how Clinton dealt with the situation.
After the debate invitation was made public on Tuesday, Twitter sounded off with a mixture of confusion and incredulity:
Malik has expressed his support of Trump since this summer, explaining: "I like Donald Trump because he speaks from the heart." As for the women who have alleged that Trump had previously sexually assaulted them, Malik doubts their testimonies, saying: "I don't believe them. Why didn't they come forward before?" He aligns with Trump not only in policy but also in personal values. Though he has multiple wives of his own in Kenya, he explained to The New York Post, "I feel like a Republican now because they don't stand for same-sex marriage, and that appeals to me."
The last time that Malik interacted with the president was back in August of 2015, an occasion that, "as usual, it was a hands-off kind of thing, very businesslike, very formal," he explained. Though he's a personal guest of Trump's, he will reportedly not be a part of any sort of panel or conference during the debate proceedings like the press conference Trump held with Bill Clinton's sexual assault accusers prior to the second presidential debate.
In addition to Malik, Trump is bringing Pat Smith, the mother of Sean Smith who was killed in the Benghazi attacks on Sept. 11, 2012. Smith has been vocally anti-Clinton for some time. At this year's Republican National Convention, she expressed: "I blame Hillary Clinton personally for the death of my son."
Voters are likely entering the third and final presidential debate a bit deflated and exhausted after last debate's vicious proceedings. Whereas inviting Malik to the debate is an odd turn, his actual role in the debate appears to be limited and, thus, insignificant in the grand scheme of things.