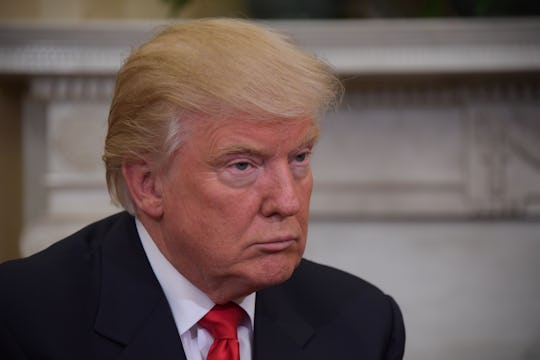 JIM WATSON/AFP/Getty Images
Donald Trump Is "Fine" With Marriage Equality On '60 Minutes', But Do People Believe It?
On Sunday, during a pre-recorded interview with CBS News' "60 Minutes," President-elect Donald Trump said he didn't plan to reverse marriage equality. This comes as a surprise to many LGBTQ Americans, since Trump previously said he'd seriously consider overturning the law that allows same-sex couples to be married across the country. Considering that Trump also ran on a largely anti-LGBTQ platform, many seem doubtful that Trump truly is "fine" with marriage equality.
When CBS host Lesley Stahl asked if Trump supported marriage equality, Trump said his opinion was "irrelevant." "It was already settled," he said. "It's law. It was settled in the Supreme Court. I mean, it's done. It's done. You have these cases that have gone to the Supreme Court. They've been settled. And I'm fine with that."
His words on "60 Minutes" marked a surprising turn for the president-elect. In January, when Fox News host Chris Wallace asked Trump about his opinion on marriage equality, Trump said he would "strongly consider" appointing justices to overrule the Supreme Court's decision on same-sex marriage.
"If I'm elected, I would be very strong on putting certain judges on the bench that I think maybe could change things," he said in January. "I can see changes coming down the line, frankly. But I would have much preferred that they ruled at a state level and allowed the states to make those rulings themselves."
That wasn't the only moment throughout Trump's campaign that scared LGBTQ Americans, either. Trump selected Mike Pence as his vice presidential pick, despite Pence's history of advocating for conversion therapy funding, opposing same-sex marriage, and shooting down attempts to protect LGBTQ Americans from discrimination. (In fact, as governor of Indiana, Pence signed the Religious Freedom Restoration Act, a law which many civil liberty groups argued could be used as an excuse by businesses to deny service to certain people based on their sexual orientation.)
Trump also backed North Carolina's HB2 law in July, which bans transgender people from using public bathrooms that align with the gender they identify with. It also bans municipalities from passing their LGBTQ anti-discrimination policies of their own. "The state, they know what's going on, they see what's happening and generally speaking I'm with the state on things like this," he told The News & Observer at the time. "I've spoken with your governor, I've spoken with a lot of people and I'm going with the state."
So while Trump may now say he's "fine" with marriage equality, the steps he's taken so far in his political career don't really support that view — and many don't really seem ready to believe that a Trump administration will mean progress for LGBTQ Americans.