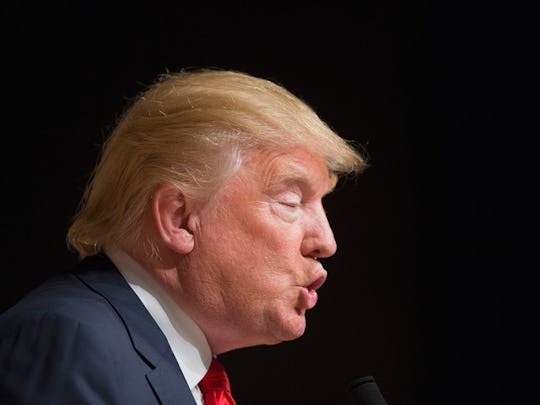 Scott Olson/Getty Images
Donald Trump & John Oliver Are Feuding, & It's Just The Latest In A Long List Of Celeb Sparrings For The Candidate
It seems Donald Trump is at it again! Trump, GOP candidate and perpetual pot-stirrer, is not one to shy away from controversy, and this week he set his sights on our favorite favorite late night hosts. Yep, Donald Trump is feuding with John Oliver. Why Oliver? Well, it all started on Saturday, Oct. 31, when the Donald tweeted about recently declining an invite to appear on Last Week Tonight, Oliver's "very boring and low-rated" HBO show. But according to a follow-up tweet by fired off by the show, Oliver's camp never even invited him on in the first place, saying, "At no point did we invite Donald Trump to appear on [the show]." Um... OK. So who exactly is telling the truth here?
And it didn't just end there, either: In a phoned-in appearance on Colin Cowherd's The Herd this Monday, Trump claimed that Oliver's representatives asked him to be on the show about "four or five times." He also stated that he meant "no disrespect" by declining, and further explained he is "just too busy." But of course, the Donald didn't let things go after that, either: Trump then stated "he hardly even knows who [John Oliver] is, I don't even know what he looks like" (though he somehow knows his show is boring,  so go figure).
As for Oliver, well Oliver "couldn't give less of a s—," he said during an appearance on CBS This Morning. Oliver explained: 
I don't really care about him in any capacity. I've really got nothing to say to him. He's said everything he wants to say. He's got no internal monologue, that man. It's not like you're going in to find the secret nugget he's been holding back.
This isn't the first time Trump has feuded with celebs. Bill Maher, Barbara Walters, Cher, Arianna Huffington, Rosie O' Donnell, and David Letterman are just a handful of the folks he's "had a problem" with. Let's stroll down memory lane for a bit, shall we?
And let's not forget this gem from 2012. You know, when he took on the President of the United States...the man in the position he is now running for:
Or when he took on EBOLA volunteers — who may not be celebrities, but should be: 
Who Trump will take on next is a mystery because, let's be honest, it is not a question if he will do it but when? But if Trump spends all of his time formulating Twitter attacks and focusing on what celebrities have to say about him and his character, one has too wonder how much time he has — and will have — to spend on the issues that matter? Because while "I" and "me" may be key words in "America," I don't see "ego" in it, nor do I think we have space for his big head — and hair — in the oval office.
Image: Scott Olson/Getty