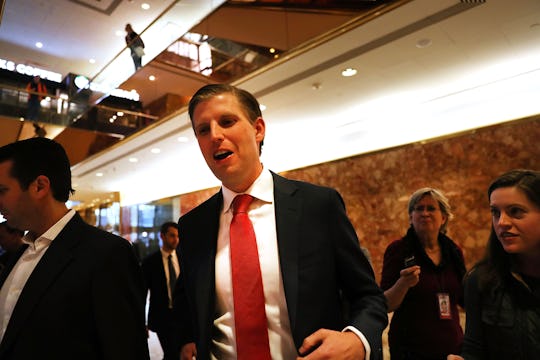 Spencer Platt/Getty Images News/Getty Images
Donald Trump Jr. Met With Russia Supporters About Syria, & It's A Huge Breach Of Protocol
Opponents of President-elect Donald Trump who fear the prospect of a nepotism-fueled regime now have another reason to worry. The Wall Street Journal has reported that the president-elect's eldest son, Donald Trump Jr., met privately with pro-Russia "diplomats, businessmen and politicians" in Paris in October to discuss possible cooperation between the U.S. and Russia in the war in Syria. True, this was before his father was elected, but whether he was acting as a de facto secretary of state or just a concerned businessman, Don Jr. has no authority to broker deals on behalf of the United States. The Trump campaign did not immediately return Romper's request for comment.
The Journal reported that the meeting was hosted by the Center of Political and Foreign Affairs, a "French think tank" led by Fabien Baussart, whose wife, Randa Kassis, is "a leader of a Syrian opposition group endorsed by the Kremlin," and both Baussart and Kassis have "worked closely with Russia." Trump adviser Kellyanne Conway confirmed that the meeting took place, but downplayed any direct discussions between Kassis and Don Jr., stating only that "Don was addressing a roundtable in Paris, and she was present." In contrast, Kassis posted on Facebook that she was hopeful about U.S. cooperation with Russia after "my personal meeting with Donald Trump [J]unior."
This is just a latest in a string of troubling reports about the Trump children's entanglements in their father's affairs, both business and political. Ivanka, Don Jr., and Eric are planning to run their father's empire while he's in office, a clear conflict of interest, and according to the Guardian, although Don Jr. said that they won't "be involved in government," they are currently working on his transition team, as is Ivanka's husband, Jared Kushner. President-elect Donald recently suggested that Kushner could help broker peace between Israel and Palestine, according to Politico, and the Washington Post reported that Kushner and Ivanka both attended Donald's meeting with Japanese Prime Minister Shinzo Abe.
There have also been reports that Donald has sought top-secret clearance for his children and son-in-law (which he denied). National security lawyer Bradley Moss told NBC News that presidential family members receiving security clearance is unprecedented, and as for the assertion that the children would only serve as informal aides to the Trump administration, he said, "You can't hold a security clearance as an informal adviser — there is no such concept."
It's illegal for the Trump kids to be officially appointed to any government position, because, as the Post reported, after President John F. Kennedy appointed his brother, Robert, to attorney general, Congress passed a law in 1967 stating, "A public official may not appoint, employ, promote, advance, or advocate for appointment, employment, promotion, or advancement, in or to a civilian position in the agency in which he is serving or over which he exercises jurisdiction or control any individual who is a relative of the public official." There is some wiggle room, however. When President Bill Clinton asked then-First Lady Hillary to head his health care task force, they were sued, and D.C. Circuit Court Judges Laurence Silberman and Stephen Williams ruled that "a President would be barred from appointing his brother as Attorney General, but perhaps not as a White House special assistant."
The news of the Syria meeting is particularly troubling given Donald's attitude toward Russia, and the widely-held perception that Russia may have attempted to help get him elected. Vox reported that Donald's reluctance to aide NATO allies bodes well for Russia, who would then be free to "install friendly dictators in small nearby countries, like Estonia, or even annex them entirely." He's also expressed support for "Russia bombing the hell out of ISIS and these other crazies," conveniently forgetting that Russia has been targeting Syrian rebels, and their ultimate goal is to back Syrian dictator Bashar al-Assad, who has been accused of crimes against humanity. Of course, this may all be moot by the time Donald takes office, because according to The New York Times, United Nations special envoy to Syria Staffan de Mistura recently predicted that "Eastern Aleppo will not be there by the new year in terms of structural destruction." If it is, once wonders what side the U.S. will take, and under whose orders.