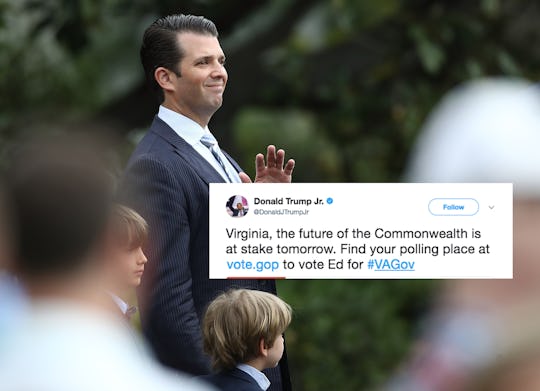 Win McNamee/Getty Images News/Getty Images
Donald Trump Jr. Tweeted The Wrong Date For Virginia's Election, Just Like His Dad Did Last Year
Tuesday is Election Day in many communities in the United States, with two gubernatorial elections in Virginia and New Jersey in particular drawing a lot of attention. In addition to those races, a mix of state, local, and special elections are sure to keep things interesting for many voters. At least, if they know when they're supposed to show up. Donald Trump Jr. thinks Virginia's election is tomorrow, instead, and Twitter isn't about to let that gaffe go anytime soon.
The governor's race in Virginia is one of the first big statewide races since Donald Trump took office last year, according to CNN. The Republican nominee, Ed Gillespie, is reportedly "a long-time party operative and lobbyist," that outlet reported. And on Monday, Trump tweeted support for him, according to The Los Angeles Times. His opponent is Democrat Ralph Northam, the state's lieutenant governor, and activists in the party are looking to him for their first major electoral win since the start of the Trump presidency.
In other words, the gubernatorial race in Virginia is kind of a big deal. And you would think Trump Jr. would get the date right for an election both he and his father have taken an interest in, according to Newsweek. But on Tuesday, he tweeted support for Gillespie, along with a call to voters to head to the polls...tomorrow. Which will of course be too late for them to cast a vote for anyone, let alone Trump Jr.'s chosen candidate.
Specifically, Trump Jr. tweeted, "Virginia, the future of the Commonwealth is at stake tomorrow. Find your polling place at http://vote.gop to vote Ed for #VAGov".
Not only did he get the date wrong, but Twitter users like @jenngidman pointed out that Trump Jr. also included a GOP link to find a polling place, rather than a link to a government guide. She embedded a tweet from the ACLU of Virginia, which noted that the Virginia Department of Elections is a better resource for voters looking for that information.
But it wasn't the link Trump Jr. included that had Twitter laughing. People found it hilarious that the president's son got such a crucial detail about such a critical election wrong.
And while Gillespie has kept his distance from Trump personally — notably, Trump didn't campaign for him in the state — he likely does want Republican voters. So he might not appreciate the son of a Republican president accidentally misleading some of those voters about when they should show up to vote for him.
Trump Jr.'s father, on the other hand, got the date right when he promoted Gillespie in a couple of tweets on Tuesday, according to Newsweek.
President Trump tweeted, "Ralph Northam will allow crime to be rampant in Virginia. He's weak on crime, weak on our GREAT VETS, Anti-Second Amendment and has been horrible on Virginia economy. Vote @EdWGillespie today!," and ".@EdWGillespie will totally turn around the high crime and poor economic performance of VA. MS-13 and crime will be gone. Vote today, ASAP!"
But Trump made a similar mistake when he was running for president. When he spoke at a rally in Panama City, Florida, during his campaign, Trump told supporters to make sure to go and vote on Nov. 28 — 20 days after the election, according to the BBC.
So it kinda seems like the tradition of making this particular blunder runs in the Trump family. Maybe they should have had a family meeting in advance about how they were going to tackle their public support of Gillespie — at least to be sure they had all the facts straight before taking to social media with that support.
Because in the case of Trump Jr.'s flub, it ended up on Twitter for all the world to see and retweet — and although he has since deleted it, the internet doesn't forget, and people on Twitter are just going to keep on roasting him for the major misstep.