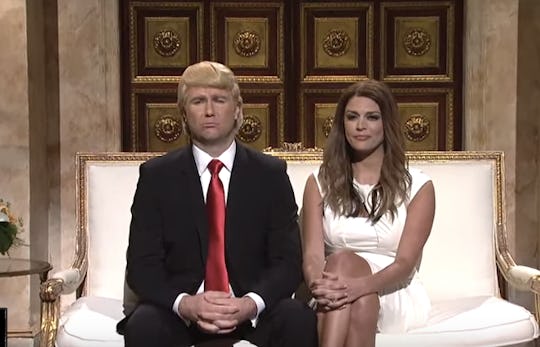 Donald Trump Likes Taran Killam's 'SNL' Impression Of Him, Which Totally Makes Sense, Because It's All About Trump
Time to ditch your Saturday plans for a night in front of the TV, because Donald Trump is hosting Saturday Night Live this week, and it's gonna be huuuuge. This will make him the first 2016 presidential candidate to host so far this season, though Hillary Clinton did appear in a sketch during SNL's Oct. 4 season premiere. But here's another big reason that Trump's appearance shouldn't be missed: SNL regular Taran Killam has been portraying Trump all season long, so it's likely that the real Donald will face off with the other Donald — and I'm willing to bet the results will be hilarious. Even if it's only one-tenth as good as when Sarah Palin faced off with Tina Fey's fake-Palin during the 2008 election, it'll be worth it.
So far at least, there's little evidence of bad blood between Trump and Killam, especially because Trump has already praised Killam's impersonation via Twitter. After watching Killam's Oct. 4 Trump portrayal during a cold opening skit, the Donald tweeted: "@TaranKillam plays a way better fake @realDonaldTrump than a real @HillarlyClinton plays herself." It's probably not surprising that Trump approved of the skit, which focused on Trump's self-indulgent, narcissistic tendencies. I mean, what better way to please a man obsessed with himself than to poke fun at this very self-obsession? The skit, which also featured Cecily Strong as Trump's wife, Melania, opened with Killam/Trump referring to himself as "a man who's almost certainly the next president."
References to Trump's positive self-image didn't stop there. "I'm just like you, a regular Joe, but better," Killam-as-Trump insisted. The skit also made several digs at Trump's status as the wealthiest presidential candidate. "Welcome to our humble gold house," Strong's Melania Trump said, gesturing at the golden surroundings of the SNL set.
Killam, who joined the cast of Saturday Night Live in 2010, is the second SNL regular to portray Trump. Series regular Darrell Hammond played Trump beginning in 2004. Hammond is now Saturday Night Live's announcer, and Killam has taken over the reigns as the resident fake Trump. Killam is known for killing it with other celebrity impressions, too, including Matthew McConaughey, Owen Wilson, and Tom Brady; so it's no wonder he's been doing The Donald some major justice this season.
In a Sept. 24 interview with CNN about the news that Killam would be his next impersonator, Trump expressed praise for Hammond's impressions of him over the last decade. "I hope he [Killam] does a good job, and Darrell Hammond was great. I thought Darrell was fantastic," Trump said at the time.
But honestly, of course Trump thought Hammond was fantastic — Hammond was doing an impression of Trump, and Trump approves of most things that are Trump-centric. Indeed, The Donald's Trump-centric tendencies were central to Hammond's portrayal, just as they will likely be central to Killam's. Back in 2011, one of Hammond's last impressions of Trump included this gem: "This is a great time for this nation's greatest man: me." A sentiment that Trump himself surely agrees with.
Image: Saturday Night Live/YouTube