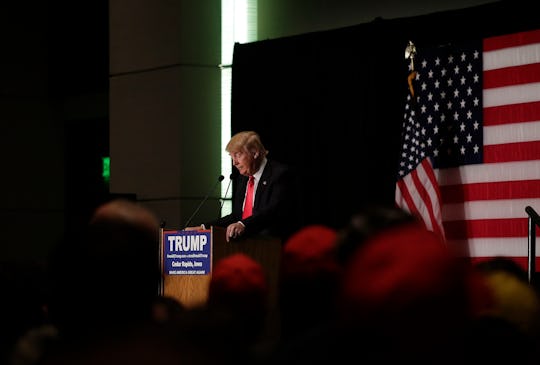 Joshua Lott/Getty Images
Donald Trump Loses Iowa Caucus To Ted Cruz & Twitter Is Having Mixed Feelings About It
The results are in and most major news outlets have projected that billionaire mogul Donald Trump has lost the Iowa caucus to Texas Sen. Ted Cruz with almost all precincts reporting. Cruz easily beat Trump with 28 percent of the votes to Trump's 24 percent. Surprisingly, Florida Sen. Marco Rubio also finished in Iowa just behind Trump with 23 percent — likely a shock for both the Rubio and Trump campaigns alike.
Trump went into Iowa pretty confident, although according to some reports, he was already looking ahead to New Hampshire and had taken his eye off the ball in the Hawkeye State. In early January, The New York Times ran an editorial outlining all the ways that the billionaire could lose some of the momentum and support that he gained throughout the election cycle. But despite a few outlier polls, Trump was never ahead in Iowa. His second place ranking was to be expected. Ross Douthat wrote in The Times that although Trump was leading in New Hampshire, Cruz would continue "to consolidate evangelicals as Ben Carson fade[d], and someone (probably Marco Rubio) [would] eventually consolidate the moderate-conservative vote." As of Monday night, it looked like that could be happening.
Immediately following the news, Twitter erupted with a variety of reactions, ranging from the ecstatic to the infuriated:
On Monday night, Trump gave a speech from Des Moines, joking about how one his backers told him early on not go to Iowa because he wouldn't "finish in the top ten." Trump then congratulated the other candidates and reiterated that he was "happy" with the way things worked out. Most importantly, Trump stayed on message. Before he left the stage, he took one more jab at former Secretary of State Hillary Clinton for having more "problems" than being behind in the Iowa caucus. Before he said goodbye to the state, he mentioned possibly buying a farm there. Because of course that's what he would do, right?
In terms of the Democratic nominee, at press time, it seemed that Clinton and Vermont Sen. Bernie Sanders were in a virtual tie. Of course, none of that mattered to Trump and his supporters, who will likely be licking their wounds and looking forward to New Hampshire.