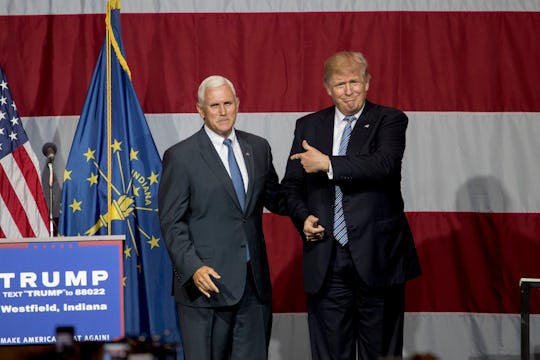 Aaron P. Bernstein/Getty Images News/Getty Images
Donald Trump Officially Announces Mike Pence As His Running Mate
After a few weeks of speculation, Donald Trump officially announced Mike Pence as his running mate for the upcoming presidential election. Trump tweeted the announcement on Thursday, writing that he was "pleased" to announce the Indiana governor as his vice presidential pick. Pence, according to CNN, has started the paperwork to remove himself from the governor's race in his state this year. Saturday morning, Trump and Pence appeared together in Manhattan to make it totally official. Trump said introduced Pence as a "solid, solid person," before making a statement on presumptive Democratic nominee Hillary Clinton and her email scandal.
Trump spoke at length about Hillary Clinton and of Mike Pence's accomplishments before bringing his running mate on stage. Trump said of his new BFF, "he's really got the skills of a highly talented executive, leading the state of Indiana to jobs, growth, and opportunity, in spite of the relentless obstacles put in his way, and in every state's way, by the Obama administration." "It's horrible out there," Trump said. He introduced Pence as a man of "honor, character, and honesty," pitting his running mate against Hillary Clinton, who Trump called "corrupt" and "crooked," referencing her email scandal yet again and saying that she "would pay" for her actions.
Mike Pence did eventually take the stage, after Trump continued to introduce the Indiana governor as someone who could take Hillary Clinton on in the general election.
Pence thanked Donald Trump, his wife, and family for the "sacrifices" they are making during this campaign season to "make America great again." Pence gave a mini pep rally for Trump, citing his business acumen and saying the thought Trump was a"good man" who understands the "American people." Pence said that Trump "gets it." So Pence is fully behind Trump's platform of making America great.
Aside from the accolades that the two candidates tossed back and forth about each other, Hillary Clinton was a main talking point for both of them. Pence spoke to Clinton's position on the Affordable Care Act and her foreign policy before signing off to the tune of Free's "All Right Now." It was a solid weekend morning announcement ahead of the Republican convention in Cleveland that begins on Monday.
Before becoming governor of Indiana, Mike Pence was a conservative talk radio host and described himself as "Rush Limbaugh on decaf." According to NPR, Pence leads with his faith. "For me it all begins with faith; it begins with what matters most, and I try and put what I believe to be moral truth first. My philosophy of government second. And my politics third," he told the Christian Broadcasting Network in 2010.
Together, Trump and Pence comprise a strong ticket for conservative Republican voters. From their speeches on Saturday morning, it sounds like they are running on their reputations and shared desire to beat Hillary Clinton. If there was a buzzer for general presidential elections, Trump's vice presidential pick sounds like a very solid "game on."