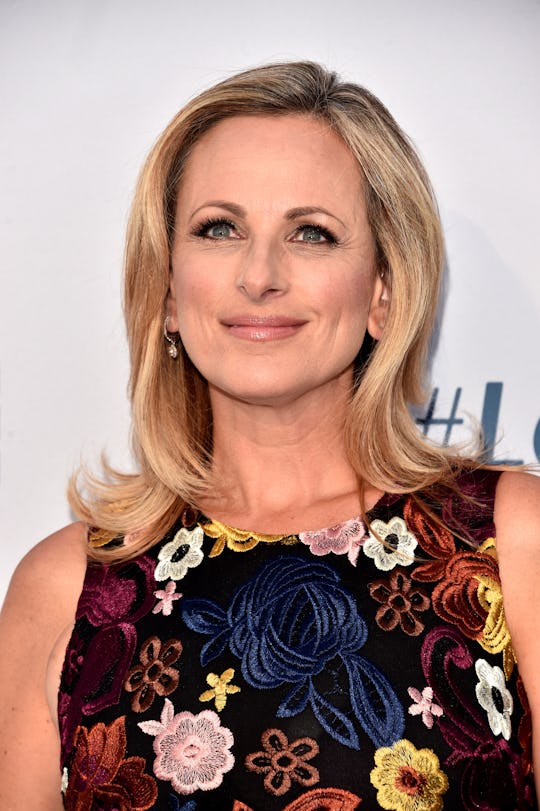 Alberto E. Rodriguez/Getty Images Entertainment/Getty Images
Donald Trump Reportedly Asked If Marlee Matlin Was "Retarded" & Hit On Her Repeatedly
Three staffers who worked on The Apprentice reported that in the 2011 season of the hit reality show, Trump often disrespected contestant Marlee Matlin, who is deaf. The sources, who remain anonymous, revealed that Trump treated Matlin as though she was mentally challenged. Donald Trump reportedly called Marlee Matlin "retarded," and made lewd remarks towards her and other female contestants on The Apprentice, according to Raw Story. The Trump campaign did not immediately return Romper's request for comment.
Update: Matlin has since released a statement on Twitter regarding the reports of Trump's comments. The statement reads:
Recent media reports have circulated that Donald Trump allegedly referred to me as "retarded." The term is abhorrent and should never be used. The fact that we are talking about this during a very important moment in American history has upset me deeply.
I am Deaf. There are millions of Deaf and hard of hearing people like me, in the United States and around the world who face discrimination and misunderstanding like this on a daily basis. It is unacceptable.
So what's my response? It's not about insults or taking each other down. As a person who is Deaf, as a woman, as a mom, as a wife, as an actor, I have a voice. And I'm using that voice to make myself heard....and vote.
Marlee
One source revealed that Trump, who usually scribbled notes during the taping of the show's boardroom scenes, once wrote a note "Marlee, is she retarded??," according to Raw Story. During taping breaks, Trump would reportedly often talk to his son, Donald Jr., or other staff on the show. At one point, he made fun of Matlin's voice, The Daily Beast reported.
The source said the incident seemed as though Trump was trying "to make it seem like she was mentally not there? [It] sounded like he got a real kick out of it. It was really upsetting."
Trump's reportedly insensitive behavior towards Matlin wasn't always behind her back, either. "In the boardroom, he would talk to her like she was 'special,'" one of the sources said. "He took her deafness as some kind of [mental] handicap."
At one point, Trump reportedly made an "insensitive" comment about Matlin's deafness. "She responded [to him], she stood up for herself," the source said. The entire exchange never aired on television. Matlin has not commented yet on this story, and her representative did not immediately respond to Romper's request for comment. All members of the show have reportedly signed strict non-disclosure agreements.
The report comes after others close to the reality show revealed that Trump often made sexual comments toward Matlin. "Watching him in the boardroom making sexual comments... to all of the women on the Apprentice, it was obvious that that's just a part of who he is," Richard Hatch, who was a contestant on the reality show alongside Matlin in 2011, told People.
Hatch said, according to People:
It was obvious and it was grotesque. It was blatant and it was frequent. He did it with Lisa Rinna; he did it with Marlee Matlin. He did it with whomever happened to be there at the time. ... He went back and forth with Marlee. No matter how she responded, no matter how politely, he would push it a step further with comments about her looks, and how she was making him feel, and about what he thought of her, and how happy he would be to do something with her.
Matlin came in second on the reality show, and appeared on a Roast of Donald Trump in 2011. Trump has responded to Hatch's claims, and denies ever making any sexual comments toward Matlin.
"Marlee Matlin is such a nice person, and Mr. Trump has great respect for her, but this report is completely false," Trump's campaign told People.