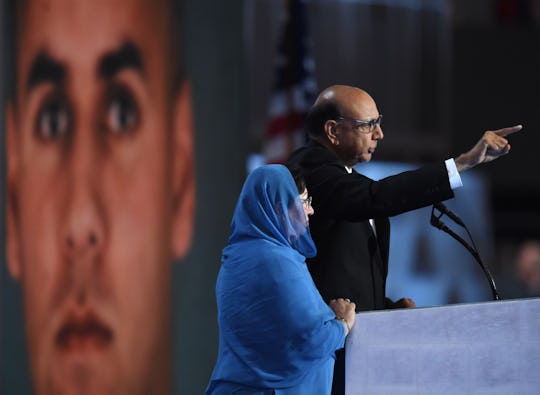 TIMOTHY A. CLARY/AFP/Getty Images
Donald Trump Responds To Khizr Khan's DNC Speech & It's Terrible
At the Democratic National Convention on Thursday evening, Khizr Khan, the father of a fallen soldier — Army Capt. Humayun Khan was tragically killed in Iraq while trying to saving the lives of his fellow comrades — issued a heart-wrenching appeal to Americans to repudiate Donald Trump as the Republican presidential candidate. Two days later, Donald Trump responded to Khizr Khan's DNC speech and it was truly terrible. The war hero's father gave a compelling speech at the convention last week and offered Trump a copy of the Constitution and demanded the billionaire businessman read it when considering his proposal to ban Muslims from the United States.
With his wife, Ghazala, by his side, Khan said his son would not have been able to serve in Iraq and save the lives of other soldiers if Trump's ban on Muslims was a reality. He later asked the Republican nominee how Americans should be able to trust him if he continues to disrespect minorities and women, asking him to look for the words "liberty" and "equal protection of law" in the Constitution.
"Have you ever been to Arlington Cemetery?" Khan said to Trump. "Go look at the graves of the brave patriots who died defending America — you will see all faiths, genders, and ethnicities. You have sacrificed nothing. And no one."
In an interview with ABC News' George Stephanopoulos on Saturday, Trump responded to Khan's statement and he said he thinks he has in fact made "a lot of sacrifices."
"I work very, very hard," Trump said in the ABC News interview, after asking if Hillary Clinton's staff writers wrote Khan's speech. "I've created thousands and thousands of jobs, tens of thousands of jobs, built great structures. I've had tremendous success. I think I've done a lot."
Stephanopoulos then pressed Trump to explain how those examples constitute as sacrifices comparable to Khan's son's. In response, Trump said he's raised "millions of dollars" for war veterans and worked to help build the Vietnam War memorial in Manhattan.
Before naming the sacrifices that he believes he's made, Trump suggested that Khan's wife didn't speak during the Democratic convention because she wasn't "allowed" to, implying that the bereaved mother might have been following subservient orders.
Trump said in the same interview with ABC News:
"I saw him. He was very emotional and probably looked like a nice guy to me. His wife … if you look at his wife, she was standing there. She had nothing to say. She probably, maybe she wasn't allowed to have anything to say. You tell me. But a plenty of people have written that. She was extremely quiet, and it looked like she had nothing to say. A lot of people have said that."
But, according to an interview with MSNBC the day after the DNC speech, she did in fact have something to say, but was overwhelmed with emotion after seeing a photo of her son that was displayed on a large video screen behind the couple.
"I cannot even come in the room where his pictures are," Ghazala Khan said in the MSNBC interview, after thanking Americans for listening to her husbands speech. "That's why when I saw the picture at my back I couldn't take it, and I controlled myself at that time. So, it is very hard."
In the wake of Trump's response to Khan's DNC speech, #TrumpSacrifices began trending on Twitter to point out the absurdity of his comments.
Trump's insulting examples of sacrifices definitely haven't gone unnoticed — Paul Rieckhoff, the founder of Iraq and Afghanistan Veterans of America, was shocked by what Trump defended as sacrifices.
"For ANYONE to compare their 'sacrifice' to Gold Star family is insulting, foolish and ignorant," Rieckhoff said in a statement to ABC News. "Especially someone who has never served himself and has no children serving. Our country has been at war for a decade and a half and the truth is most Americans have sacrificed nothing. Most of them are smart and grounded enough to admit it."