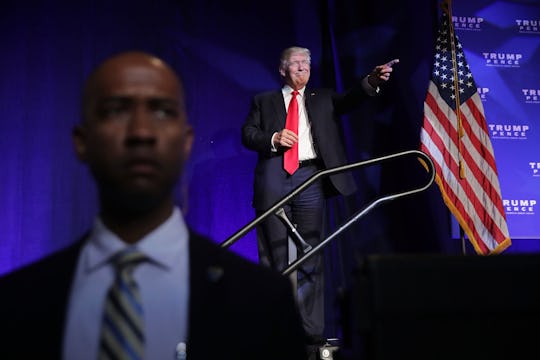 Chip Somodevilla/Getty Images News/Getty Images
Donald Trump Rushed Off Stage By Secret Service At Campaign Event In Nevada
At a campaign event in Reno, Nevada on Saturday night — and just days before Nov. 8 — Republican nominee Donald Trump was rushed off the stage by Secret Service. It was not immediately clear what happened or what led to the actions, but CNN reported that there was "an apparent threat" towards the GOP nominee. Several minutes after he was removed by two members of his security detail, he returned to the stage to deliver his speech.
"Nobody said it was going to be easy for us," Trump said as he returned to the stage shortly afterward. "But we will never be stopped. Never, ever be stopped. I want to thank the Secret Service. They don't get enough credit. These guys are fantastic."
According to CNN, just moments after the Republican candidate was rushed off the stage, video shows a SWAT unit of police officers came to the front of the crowd and at least one man was escorted out in handcuffs by police officers with assault rifles and Secret Service agents.
Attendees told CNN that they witnessed a Trump supporter raise up a sign just before the incident began. CBS News reports a similar account, saying everything happened very quickly, but things were "chaotic" and it appeared that the commotion happened near the podium.
According to multiple news reports, further details on the suspect's identity or actions were not immediately available. The lack of information has led to a good deal of commotion on social media with many speculating about what exactly happened, such as an alleged assassination attempt, although CNN reported that a law enforcement official said that no weapon has been found related to the incident in Reno.
Details are still coming in about the suspect, who can seen below being taken away by many officers:
Trump's Reno rally, his third of the day, was reportedly a last-minute visit, as Nevada is a crucial swing state. He's scheduled to campaign in Colorado later in the day as well.
As this story continues to develop, whatever caused the scuffle to happen at the Reno rally is yet another incident of this vicious and tense presidential election.