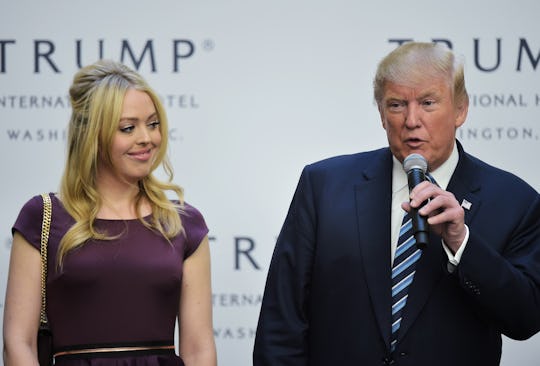 MANDEL NGAN/AFP/Getty Images
Donald Trump Says He's Less Proud Of Tiffany Than His Other Children, & It's So Awkward
Republican presidential candidate Donald Trump is known for saying terrible things. There's no need to recount them here because, frankly, just about every American knows Trump's "Greatest Hits" by heart. Over the past few weeks pundits and political prognosticators praised Trump for his relative message discipline. But they didn't really think Trump would be able to get through Election Day without a couple of doozies, did they? This one isn't offensive, just terribly sad. Donald Trump said he's less proud of Tiffany than his other children, once again reminding everyone in America that he isn't as close with her in the most awkward of ways.
The rest of America gets to move on past Trump after this awful campaign is over on Tuesday. Tiffany, not so much. Trump's first order of business on Election Day was a call into Fox & Friends to talk about the election. The conversation moved to his children, which is when things got a little awkward, according to Mashable.
I'm very proud of my children. I mean, I'm just looking at them right now as an example... but I'm very proud 'cause Don and Eric and Ivanka and, you know, to a lesser extent 'cause she just got out of school, out of college, but, uh, Tiffany, who's also been so terrific. I mean, they work so hard.
He's proud of Tiffany to a "lesser extent?" Harsh.
Here's Tiffany and Ivanka on the Trump campaign trail in Georiga.
In addition to the passing insult, it's been Trump's older children with Ivana, Donald Jr., Eric, and of course, his favorite offspring, Ivanka, who have assumed the most public roles in their father's campaign. And when it comes to daughters, it's got to be hard for Tiffany to try and compete for her dad's attention with Ivanka, who, according to Politico, is assumed to be the heir to the Trump empire.
Tiffany was raised far away from Trump in California, which ex-wife Marla Maples said in a recent interview, has left her searching for a closer relationship with her father.
"My daughter is back here wanting to get to know her dad and spend more time with him," Maples told The Daily Beast. "And I have to really respect that and I do respect that in every way. I was fortunate enough to raise her in California really on my own."
Here's a recent photo of Tiffany and her mom, Marla, from Tiffany's Instagram.
Hearing Trump make strange and backhanded comments like the one of Fox & Friends has got to be a setback in the relationship.
Tiffany, 23, gave a solid speech at the Republican National Convention, is a graduate of her father's alma mater The University of Pennsylvania, and is getting ready to apply to law school, according to an interview she gave with ABC News. She's the kind of daughter anyone would be proud of. She even recently hit the campaign trail with her dad in Valley Forge, Pennsylvania, according to the Daily Mail to help with women voters. What's wrong with Tiffany?
Nothing. Well, maybe just her father. Would it kill him to give her a little praise?
Tiffany, in case you don't recall your 1990s Trump scandal trivia, is the daughter of Trump and his one-time-mistress-turned-wife Marla Maples. The union lasted 6 years, although the two met, Maples said, according to People, in 1985 while Trump was still married to his first wife, Ivana. Trump and Maples were married when their daughter Tiffany was two months old.
Plenty of folks on social media are predicting that Tiffany has a secret revenge plan to vote for Hillary Clinton on Election Day. And I have to admit, it's starting to sound plausible.
Trump's alleged dismissive attitude of Tiffany even made it to a recent Saturday Night Live spoof where she decides she's had enough and rejects the Trump name altogether.
Maybe after this election's over, Tiffany will decide she's had enough of her father's world in real life. Maybe she'll head back to California to be closer to her mother. Or maybe Tiffany was already over it by the second debate when she pulled one of the most epic kiss swerves of all time.
Either way, the country is rooting for you, Tiffany.