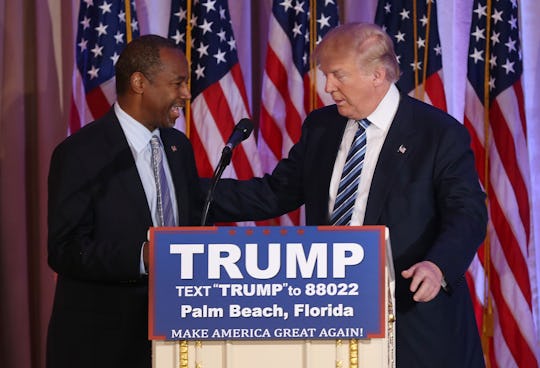 Joe Raedle/Getty Images News/Getty Images
Donald Trump Stands By His "Islam Hates Us" Comments At The Republican Debate
Thursday night's Republican debate stood out from the rest because it was unusually civil. Perhaps the candidates sensed the importance of that final impression before Tuesday's big primary and caucus events in Ohio, Illinois, Florida, and Missouri. Still, some candidates kept up this election's trend of broadcasting offensive opinions. (Who it was should not be too surprising.) Donald Trump stood by his "Islam hates us" comments at the debate, and it was a new low of Islamophobia and fear-mongering.
According to CNN, he first shared that sentiment during an interview with Anderson Cooper. He said, "I think Islam hates us." He went on to say that he thought "tremendous hatred" was rampant in the Middle East, and not just among militant extremists. In fact, he said, "it's very hard to define. It's very hard to separate. Because you don't know who's who." Last night's debate moderator, Jake Tapper, asked Trump to explain his offensive generalization. He wondered if Trump meant all Muslims. Trump's response? "I mean a lot of them."
He went on to say that he "will stick with exactly what I said to Anderson Cooper," according to CNN. Marco Rubio took the opportunity to criticize the presidential frontrunner. "Presidents can't just say what they want. It has consequences," he said, according to Vox. For Trump, unfortunately those consequences have been gaining more supporters. In case you've lost count, here is a short recap of some of the other show-stopping, racist remarks Trump has shared with his fellow Americans over the course of this election season, and before.
1. "They're rapists … some, I assume, are good people."
Trump started his presidential bid with a bang. Speaking from Trump Tower last June, he shared his opinion of Mexican immigrants, according to the Washington Post:
When Mexico sends its people, they're not sending their best. They're not sending you. They're not sending you. They're sending people that have lots of problems, and they're bringing those problems with us. They're bringing drugs. They're bringing crime. They're rapists. And some, I assume, are good people. But I speak to border guards and they tell us what we're getting. And it only makes common sense. It only makes common sense. They're sending us not the right people. It's coming from more than Mexico. It's coming from all over South and Latin America, and it's coming probably— probably— from the Middle East. But we don't know. Because we have no protection and we have no competence, we don't know what's happening. And it's got to stop and it's got to stop fast.
He said that just after announcing that he would run from president, thus immediately establishing himself as a polarizing figure on the GOP field.
2. "I have thousands of Hispanics that work for me."
When it first was announced that Trump would host Saturday Night Live, there was a wave of backlash from many Hispanic organizations and activists who opposed giving him a platform to spread more racist messages. He responded in typical Trump fashion. He said on Fox and Friends,
I'm leading in the polls with the Hispanics. I mean, you look at Nevada, I'm leading in the polls with the Hispanics because I produce jobs, and they know it. I have thousands of Hispanics that work for me, my relationships to Hispanics is better than those groups.
He really knows how to make friends.
3. A "total and complete shutdown" of Muslims entering the U.S.
Following the San Bernardino shooting, Trump made a statement calling for a "total and complete shutdown of Muslims entering the United States until our country's representatives can figure out what is going on."
In a released statement on his website, he said,
Without looking at the various polling data, it is obvious to anybody the hatred is beyond comprehension. Where this hatred comes from and why we will have to determine. Until we are able to determine and understand this problem and the dangerous threat it poses, our country cannot be the victims of horrendous attacks by people that believe only in Jihad, and have no sense of reason or respect for human life. If I win the election for President, we are going to Make America Great Again.
That statement, though widely condemned, launched him into the lead and marked the beginning of the imperative his campaign would become known for, "Make America Great Again."
4. "I'm a negotiator, like you folks."
While speaking to the Republican Jewish Coalition on Dec. 3, he said he's "a negotiator, like you folks." Remarkably, the Jewish stereotypes did not stop there.
He continued: "Is there anyone in this room who doesn't negotiate deals? Probably more than any room I've ever spoken." Needless to say, he did not gain much support from that audience.
5. "A well-educated black"
This is a throwback racist comment, but it illustrates that Trump has been much more consistent in his racist opinions that he has in his political platform. During a 1989 interview with NBC News, he said, "A well-educated black has a tremendous advantage over a well-educated white in terms of the job market. If I were starting off today, I would love to be a well-educated black, because I believe they do have an actual advantage." Needless to say, among so much else, this illustrates that Trump has very little understanding of the issue of racial inequality and white privilege. That almost stubborn lack of empathy has carried through to his current campaign.
Note that this is far from an exhaustive list. In fact, it could have hundreds of quotations, yet, sadly, many of them have only rallied supporters to his side.