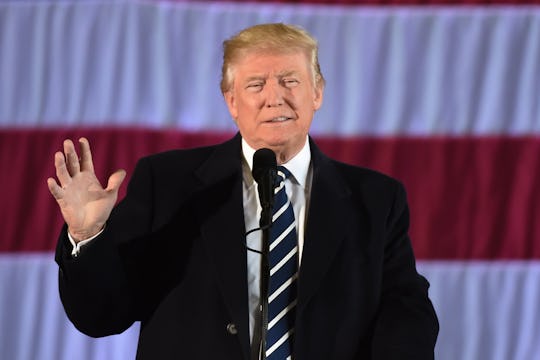 DON EMMERT/AFP/Getty Images
Donald Trump Teases Secretary Of State Pick On Twitter & Its Completely Unnecessary
President-elect Donald Trump is definitely gearing up to be one of the most vocal presidents in United States history. Not one to shy away from controversy or keep his mouth shut, Trump loves to do things his way, especially using Twitter to his advantage so he can announce things in his traditional style and make headlines. But on Sunday, Trump teased his secretary of state pick on Twitter — and given the drawn-out horse race between high-profile players like Mitt Romney and Rudy Giuliani, for what is one of the most powerful Cabinet positions, the Tweet was kind of ridiculous. There was absolutely no reason for Trump to play coy, especially when people are dying to know who will fill the role, and how foreign policy will be shaped over the next four years.
Since loyal Trump advisor and prospective pick for secretary of state Rudy Giuliani dropped out of the running on Friday, there has been a lot of buzz surrounding the empty seat that remains. In the past two days since Giuliani and Trump's announcement, a clear frontrunner has emerged from the pack of rumored candidates — ExxonMobil chairman and CEO Rex Tillerson. According to CNN, the final announcement about secretary of state is likely to be made during the middle of this week and Tillerson is more than likely going to be named.
Trump must have been dying to address these rumors — because he took to Twitter to tease the public about his pick and acknowledge the rumors about Tillerson.
"Whether I choose him or not for 'State' — Rex Tillerson, the Chairman & CEO of ExxonMobil, is a world class player and dealmaker," Trump Tweeted. "Stay tuned!"
"Least we not forget about Trump's past, his Tweet serves as a great reminder that Trump was once the host of a reality show for quite a few years. His "stay tuned!" wording sounds like it's straight out of a promo for The Celebrity Apprentice. Of course, the reactions to Trump's Tillerson Tweet show that Trump's teaser wasn't exactly needed or wanted:
Couldn't Trump just have announced his pick for secretary of state anyway — or waited until it was announced to share his views on Tillerson? Judging by Trump's Tweet, it seems as if he greatly admires Tillerson, regardless of whether or not he actually picks him to fill the position, so the least he could have done was cut the games for Tillerson's sake.
According to CNN, Trump "is reportedly intrigued" by Tillerson's "view of the world." As the CEO of a major oil company that is all over the world, Tillerson is a seasoned business man with reported close ties to Russia. Tillerson is not a politician, according to NBC News, lacking government or diplomatic experience to his name — which could be an issue if he becomes secretary of state. However, Tillerson could bring his "world class player" persona and dealmaking skills to the position to offer a new approach to the role.
Trump's teaser on Twitter was seemingly positive, but in no way necessary, given the high stakes involved. People are less concerned about Trump's thoughts on Tillerson and a lot more concerned about the future of the country's foreign policy playbook for the next four years — and as the onslaught of upset reactions suggest, perhaps it's time for Trump to put away the reality show host game and remember his position.