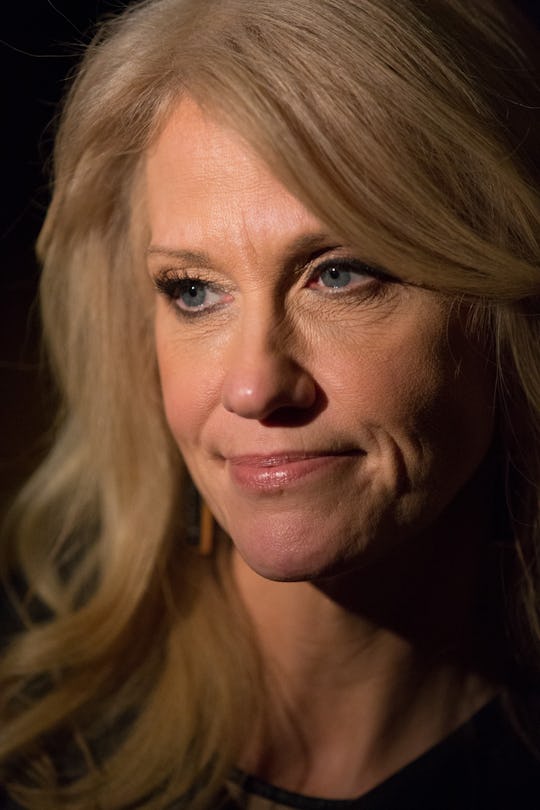 Kevin Hagen/Getty Images News/Getty Images
Donald Trump Was Reportedly Irritated By Kellyanne Conway's Comments About Mitt Romney
While many Americans continue to have opposing opinions about Donald Trump's Cabinet picks, it appears there may be some an internal disagreements regarding who might fill certain positions within the president-elect's administration as well. A Trump source close to the situation told CNN on Monday that Trump was reportedly irritated by Kellyanne Conway's comments about Mitt Romney — the former Massachusetts governor and 2012 GOP presidential nominee — as his name was being floated as a potential nomination for Secretary of State. Romper reached out to Trump's transition team regarding the reported feud and Conway's comments, and is awaiting a response.
The source told CNN that there is an "internal feud" between Trump's former campaign manager and his chief of staff Reince Priebus over the who will be offered the nation's top diplomatic position, a choice that's reportedly up between Romney and former New York City Mayor Rudy Giuliani, who was an early supporter of Trump and has been a friend of the president-elect for many years.
Over the weekend, Conway suggested during an interview on CNN's State of the Union that Trump supporters may feel "betrayed" by the idea of Romney being considered for the post. Her comment stems from Romney being one of Trump's most vocal critics during the presidential election.
"I'm all for party unity, but I'm not sure we have to pay for that with the secretary of state position," Conway told CNN's Dana Bash on Sunday.
She continued, "It's just breathtaking in scope and intensity the type of messages I've received from all over the country ... the number of people who feel betrayed to think that Gov. Romney would get the most prominent Cabinet post after he went so far out of his way to hurt Donald Trump."
Despite reports that Trump is "furious" with Conway because she went rogue "at the worst possible time," Conway told CNN that Trump is not angry or irritated, adding that the president-elect understands her comments came from a place of "loyalty."
On Monday, however, two high-level sources on Trump's transition team told MSNBC's Morning Joe that some of Trump's aides were reportedly "baffled" by Conway's comments and were concerned that she was "pushing her own agenda," adding that this behavior was "dangerous," according to the broadcast.
This reported feud along with Conway's outspoken opposition against Romney has grabbed the attention of the nation, with many curious as to why it's being played out in the public eye in the first place, when Conway — one of Trump's top aides — could easily discuss this disagreement in private.
One person who was astounded by the situation was CNN's Anna Navarro. "Astounding to hear [Kellyanne] Conway, who has the ability to tell Trump privately, trash [the] possibility of Romney as secretary of state publicly on State of the Union," Navarro tweeted.
Conway responded to Navarro's tweet, saying that she did tell Trump privately, but the reason she discussed it publicly was due to the "intensity of grassroots resistance to Romney."
While the feud seems to mostly involve a decision between Giuliani and Romney, the position may not go to either of them. CNN reports that alternative options for the next secretary of state include Gen. David Petraeus and Tennessee Sen. Bob Corker.
An internal feud between Trump and some within his transition team has yet to be verified by the president-elect himself (or a spokesperson on his behalf), but it's clear that some on Team Trump are divided.